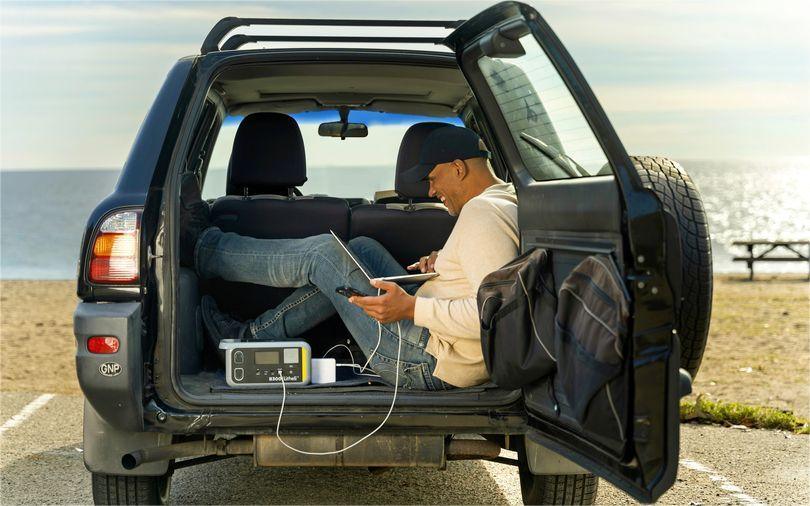 Power Your Lifestyle
Essential Car Tools Packing List for Every Road Trip Enthusiast
Ever had something go wrong on a road trip? By following the essential car tools packing list, you can be prepared for just about any disaster on the road to get up and going again. Fix a flat, jump a battery, and be on your way.
Big road trips can often go off without a hitch, but when trouble hits, it's important to be ready for anything. Bringing along all the essential car tools for a road trip is one way to guarantee that you stay safe on the road.
Every problem from a flat tire to an AC failure can easily be fixed on the side of the road, if you have the right car tools for the job. This car tools packing list is designed to help you prepare for any incident that occurs while out on the road. It's important to learn the inner workings of the car as well before going, without the knowledge, the tools won't do any good.
This is just the start to learning how to pack for a road trip emergency. Most of these tools are great to have on hand throughout the day-to-day commuting, let alone on a long road trip. So, let's get going!
Common Car Problems on a Road Trip
There are a lot of things that can go wrong while you drive long distances. Cars are constantly being battered and abused, especially when the mileage starts to go up and the longer drives keep coming. Fortunately, when you take care of your car, a lot of these problems can be avoided.
Here are some of the most common problems you're likely to encounter on a road trip. Then, we'll take a look at the tools you need to fix them.
Flat Tire
Probably the most common issue is a flat tire. You see people with them all the time, and being able to change a tire is one of the best skills to have any time you hop in a car. The tools for this job are simple, you only really need to bring along a lug wrench, car jack, a spare tire, and potentially an air compressor.
A patch kit and a tire plug kit are great to have along as well for when you need to fix the tire, not just throw on a spare.
Dead Battery
A dead battery happens all the time on a road trip. A battery jumper is one of the best car tools for a road trip since you are often out on your own on a long stretch of isolated highway. With the jumper battery, you can get the car battery back up and running without the need for another car and jumper cables.
That being said, battery starters need to be kept charged, so they need more constant maintenance and attention. So, always keep a pair of jumper cables and hope for a good samaritan to drive by.
Overheating Engine
Overheating engines can happen all the time when you're putting a lot of miles on the car. Sometimes this happens due to low fluids, but low fluids can happen because of a leak that might merely need to be patched up.
You could possibly have a loose belt, a coolant leak, a broken or damaged water pump, or just a low level of oil. In all of these cases, you need the right tools to fix the problem before you can start driving again.
AC Failure
A damaged AC compressor or issue with fluids is common when you're driving long distances, especially if you're cranking the air conditioning. Driving with a broken AC system isn't just uncomfortable, it can be dangerous as certain fumes get into the car. This is one you want to learn how to fix to keep yourself safe on the road.
The Essential Car Tools for a Road Trip
This list is the ultimate packing list of car tools for every road trip enthusiast. It's designed to help you deal with any problem that you come across. Keep these car tools in the trunk at all times, and you'll never have to call a tow truck again.
Basic Tool Kit
A basic tool kit that you would keep in the garage is a great place to start with your car tool packing list. All of these small and common tools will come in handy for a wide array of tasks that need to be completed on a road trip.
Screwdrivers
Crescent wrenches
Socket set
Pliers
Pocket knife
Duct tape
A Litheli impact wrench is a great way to make changing a tire a simple and easy job. Not only can it handle a quick tire change, but you'll also find that a lot of repairs on a road trip will require removing larger bolts and nuts. An impact wrench turns a hard task into an easy one.
Spare Tire
Of course, if you ever encounter a flat, you need to make sure you have the right spare tire. For a road trip packing list, it's good to include a full-size spare rather than a donut. This will get you further, meaning you're able to change tires in the middle of nowhere and not worry about the donut.
A good system to inflate your tires can be a lifesaver as a road trip car tool. This will help you inflate a tire after making a repair or to inflate the spare tire that's been sitting in your trunk for years. A tire is no good if it doesn't have air in it, and this 20V cordless inflator is the best solution to the problem.
Scan Tool
When the car starts acting weirdly, it can be difficult to actually diagnose the problem. Now that you'll have all the right tools to fix the problems, you need a way to figure out what to fix. A diagnostic scanning tool is a quick and easy way to figure out where to look when you're repairing your car on a road trip.
Sometimes your car simply needs to be cleaned in order to find a problem that's going on, or to fix the problem. With long road trips, dirt and grime will build up quickly. A pressure washer will help to get rid of that grime in an instant, making your car look and function like new again.
Flashlight
On any road trip packing list should be a flashlight, or multiple different light sources. Any time something goes wrong in the dark, you need to have your own light source that doesn't rely on the car battery working.
Keeping the interior of the car clean can be incredibly difficult on a long road trip. Before it gets out of hand, it's helpful to vacuum up any big or minor spills. This handheld vacuum cleaner is powerful but doesn't take up much space. Any road trip will be better when you're inside of a clean car.
Spare Fuses
Oftentimes, a quick fix is to switch out a fuse that's blown. Carrying a few spare fuses makes this a quick and easy fix on a long road trip to get you back to the road.
Battery Starter and Jumper Cables
A dead battery can be easily fixed with a battery starter when you've accidentally drained the battery too much. If you have another car around, using jumper cables will have the same effect, making both of these important and essential car tools for a road trip.
Portable Power Station: B300 or B600
Having power even when your car dies can be a complete lifesaver. A portable power station works as a giant battery that you can plug into, and even charge while the car is running.
Built-in U-Batteries in the B300 and B600 can be pulled out and used as easy-to-carry power banks for mobile devices and also serve as the power source for other Litheli U4 Series products including the handheld vacuum cleaner mentioned above and so on.
On a long road trip, you need essential car tools like this to make sure you stay safe in an emergency. If you get stranded, a portable power station like the B300 or B600 will help charge your phone or other electronics and get you in touch with someone to come help.
In addition to providing power for tools to help you in an emergency, the B300 and B600 can charge a diverse range of devices. From coffee pots and drones all the way to cameras, refrigerators, projectors, Bluetooth speakers, and gaming consoles, these power stations can handle it all. With a portable power station on board, you can cover all of your electrical bases for any road trip you take on.
If you ever get stranded on a long road trip, you need constant power. A solar panel paired with a portable power station is on our list of essential car tools because it will help to keep you powered up in any situation.
Not only is this great in emergencies, you can use the solar panel and power station when stopped for the night, making camping a great and cheap way to travel across the country.
Puncture Kit
A flat tire can be fixed easily with a puncture kit if you know how to use them. Be sure to bring along the portable inflator in order to get your tire pressure back up after the patch it made.
First Aid Kit
While this isn't going to patch up your car, having a first aid kit should be on any road trip packing list. This can come in handy when something goes wrong, so make sure you have a fully packed first aid kit in any scenario.
Preventative Maintenance before a Road Trip
Any time you prepare for a road trip, make sure to check everything over before driving off into the sunset. Fluid levels need to be full, oil should be fresh, and everything should be checked for small problems. The small problems tend to turn into larger ones as you drive long distances.
Take your car into a local mechanic before driving and you can greatly reduce your need for any car tools on your road trip. Either way, it's always good to have the essential car tools for any road trip so you can help yourself get back on the road in no time at all!