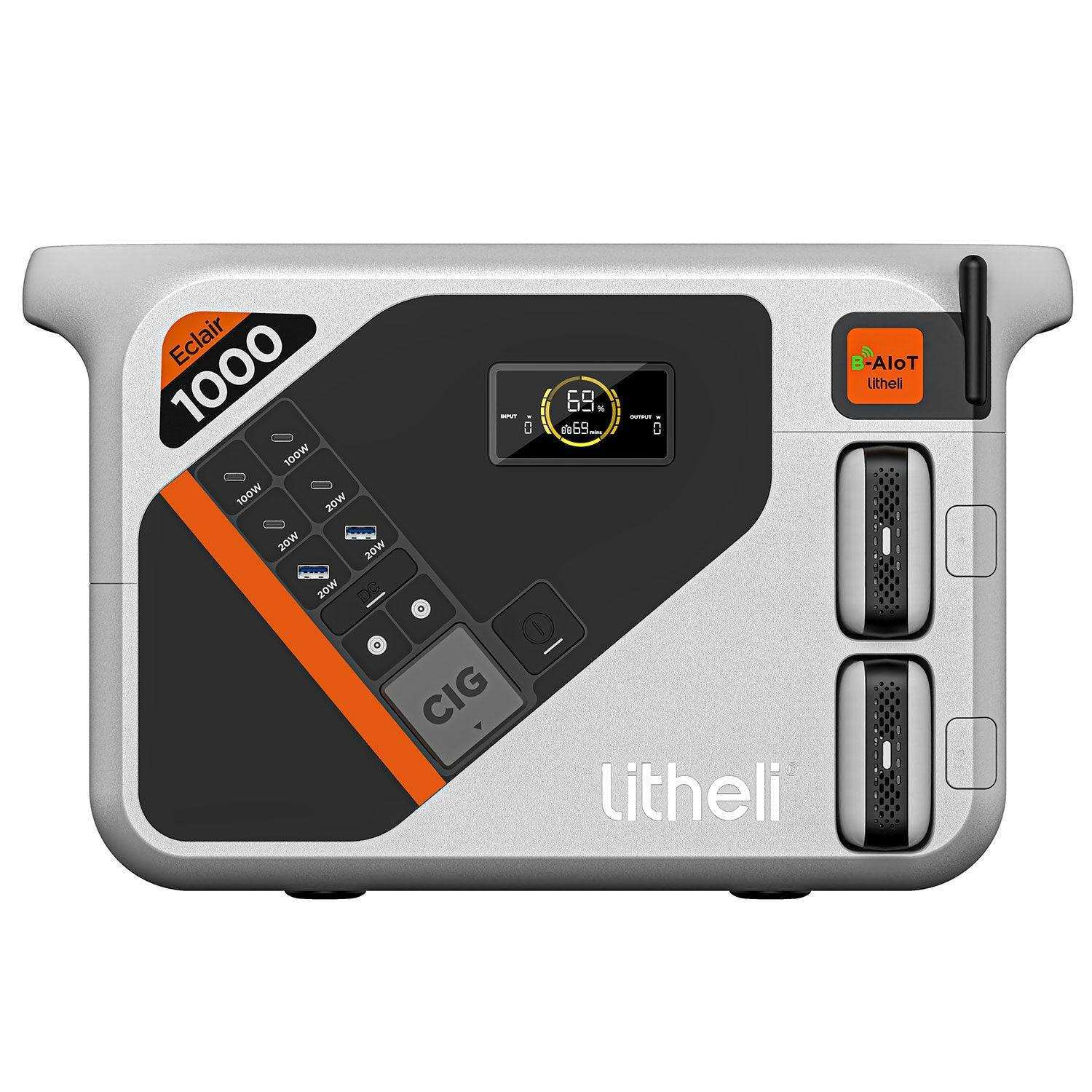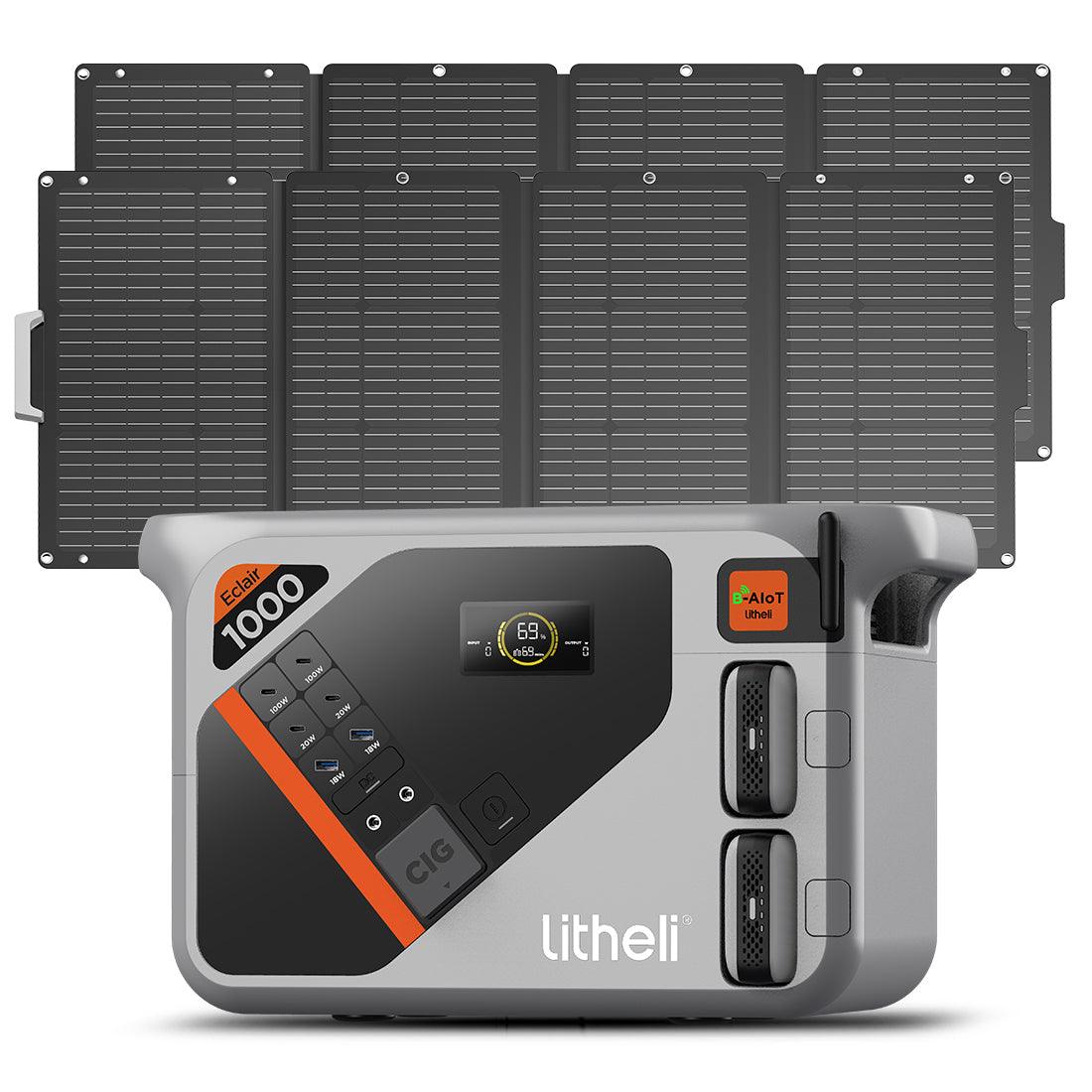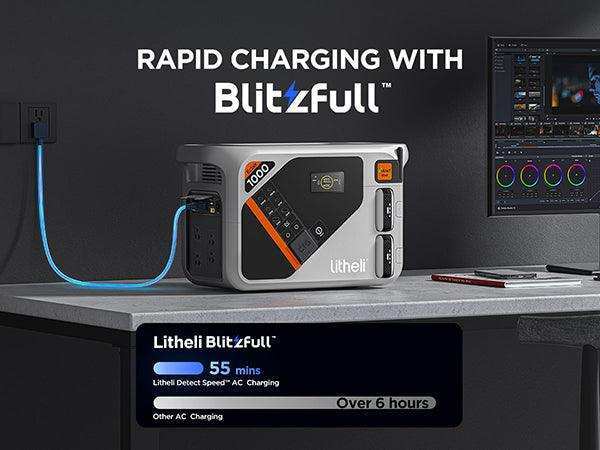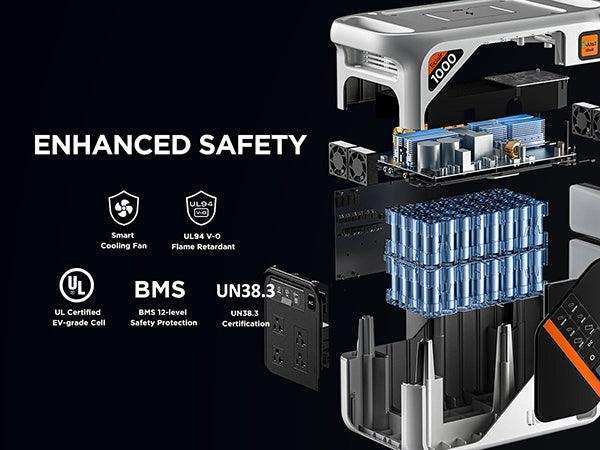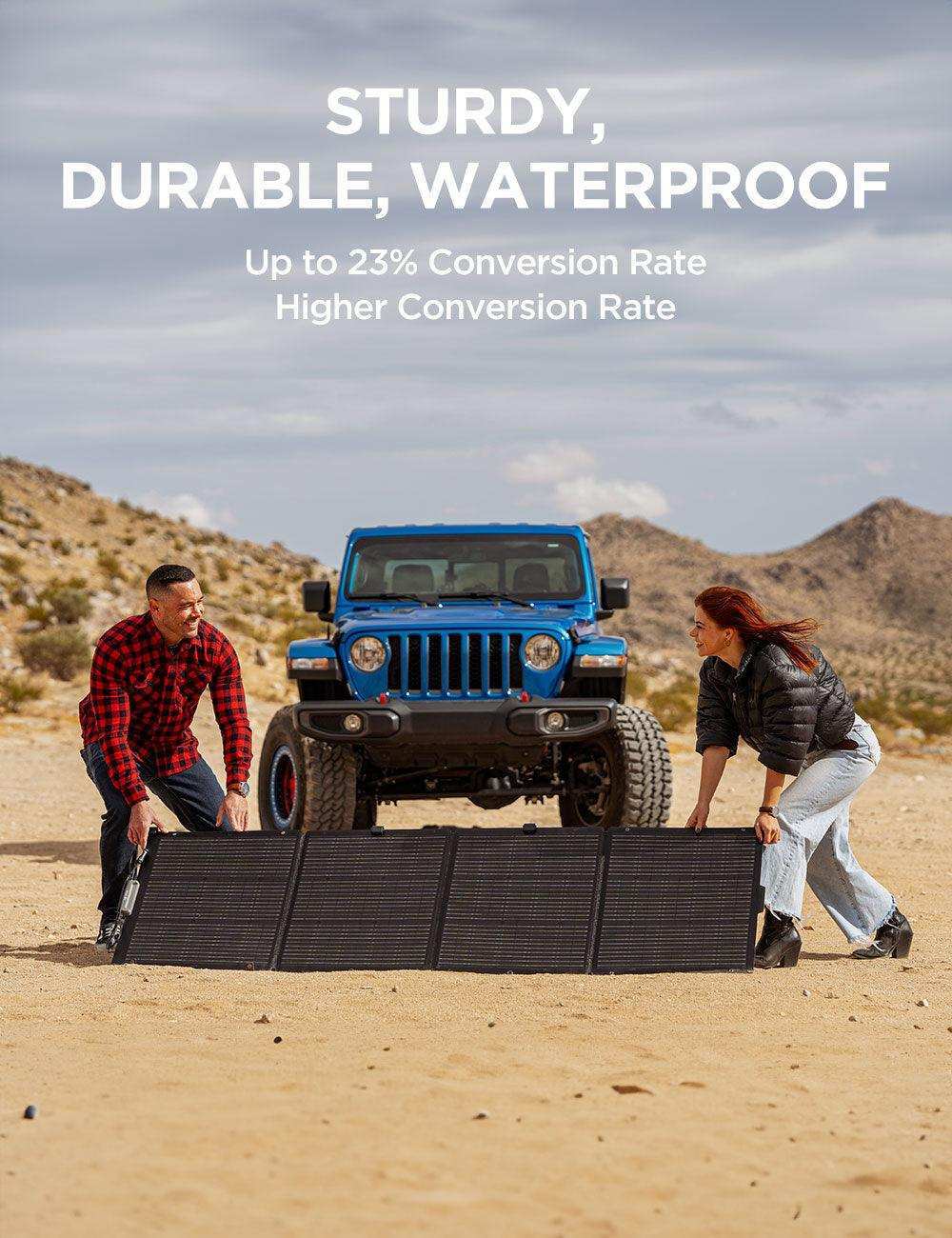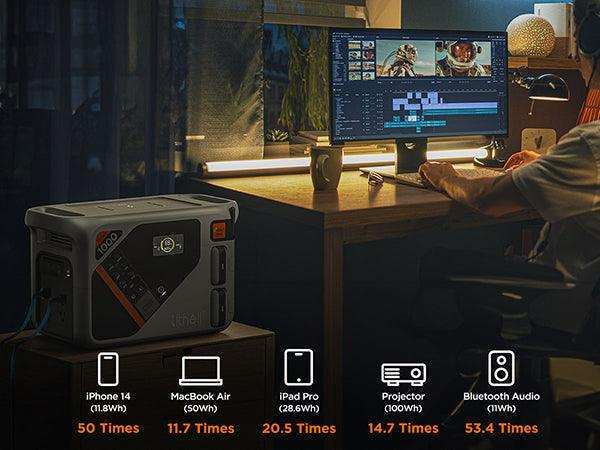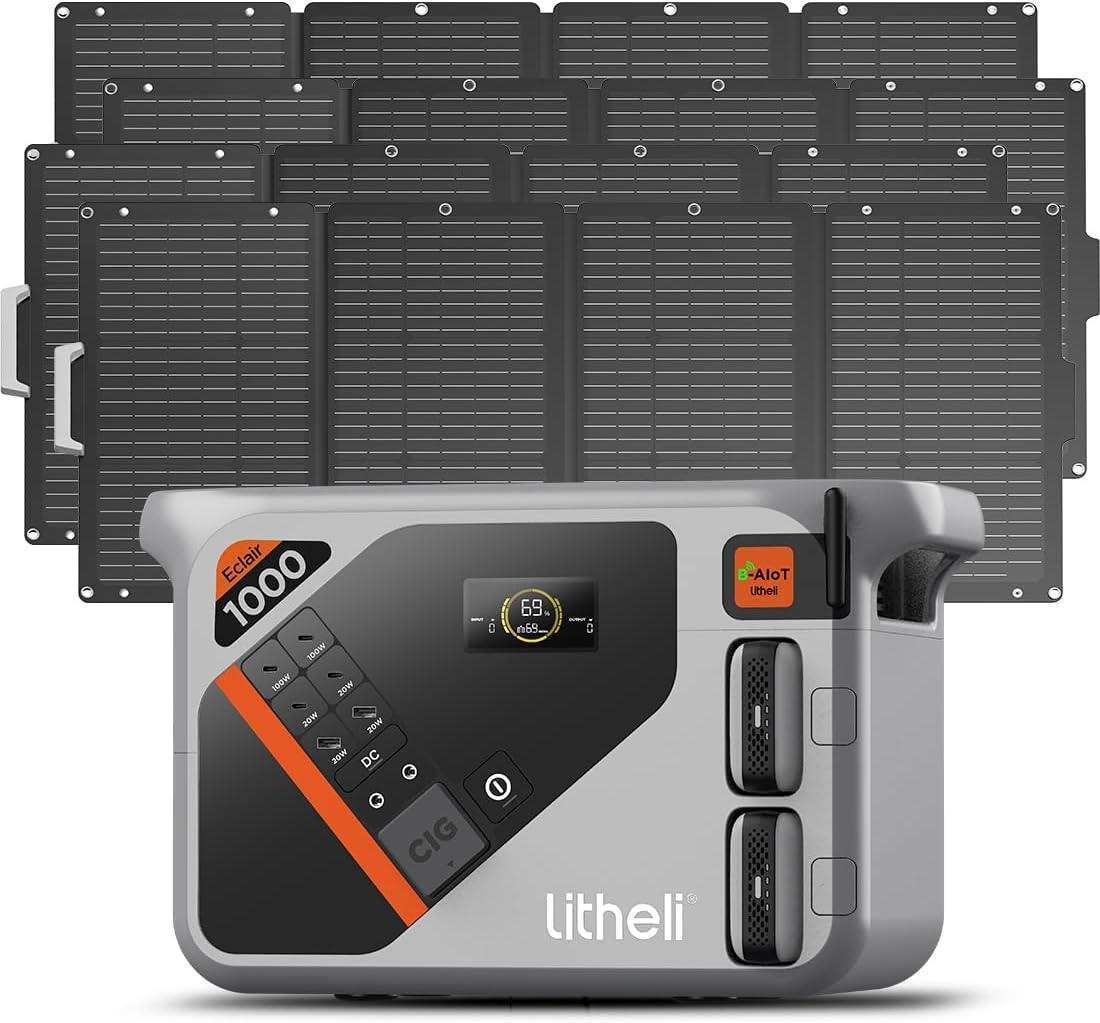 Litheli B1000 Portable Power Station with solar panel| 1069Wh 921Wh
Get ready to revolutionize your power experience with Eclair1000. Embrace limitless power supply, unbeatable convenience, and unmatched performance for all your outdoor adventures and everyday power needs.
Ultra-fast charging, fully recharged in 55mins
1800W powerful output to tackle various electricity demands
1069Wh capacity for extended range for worry-free travel
3 Ways to Recharge: AC, Solar Charging, Car Charging

14 Output Options: 4 AC outlets, 2 USB-A, 4 USB-C, 1 CIG, 2 DC5521, and 1 Pogo Pin

Long Battery Life Cycle: 3000 cycles to 80%
LiFePO4 battery for safety, reliability and long cycle life

Smart App control + Real-time data on the LCD display
24 Month Quality Warranty
Seamlessly Power Through Outages
Stay worry-free during seasonal power outages with our portable power source, capable of driving high-power appliances like refrigerators to keep you powered.
Experience Rapid Recharging with BlitzFull™
10 times faster charging enables a full charge in just 55 minutes. Versatile charging options (AC, car, and solar) keep you prepared for emergencies and power your devices on the go.
Harness Litheli's BlitzDrivz™ Technology
Boasts an impressive 2200W output capacity, capable of powering up to 90% of your electrical appliances. Whether camping, outdoors, or during power outages, Eclair1000 has got you covered.
Long-Lasting, Reliable Power
Equipped with high-quality LiFePO4 cells and advanced BMS for long-lasting and reliable power supply. Low-noise fan allows you to enjoy quiet power use without any disturbance.
Confident Protection with UPS Function
Built-in Uninterruptible Power Supply function safeguards your devices and work from sudden power outages. Stay connected even during unexpected disruptions.
Power Up to 14 Devices
Max output power of 1800W enables simultaneous powering of smartphones, laptops, kitchen appliances, and more, delivering versatile power supply to every aspect of your life.
GENERAL SPECS
Dimensions
Unfolded: 40.2inch*27.7inch*23.6inch or 42.1inch(with handle)
Capacity
1069Wh (921Wh+2*74Wh)
Continuous Power Output
1800W
Operating Temperature
-10℃- 45℃ (Optimal: 20℃-30℃)
Cycle Life
After 3000+ cycle times: 80%
OUTPUTS
AC Output (×4)
1800W (Rated), 110V~ 50Hz/60Hz
USB-A Output (×2)
5V⎓3A/9V⎓2A/12V⎓1.5A, 18W (MAX)
TYPE-C Output(×2)
5V⎓3A/9V⎓2.22A, 20W (MAX))
TYPE-C Output(×2)
5V⎓3A/9V⎓2A/12V⎓3A/15V⎓3A/20V⎓5A, 100W (MAX)
CIG Output (×1)
12.6V⎓10A, 126W (MAX), power shared with DC5521
DC5521 Output (×2)
12.6V⎓10A, 126W (MAX), power shared with CIG
Pogo Pin Output (×1)
20V⎓4A, 80W
INPUTS
Solar Charging Input (XT60)
400W(MAX), 12-45V⎓10A
Car Charging Input
12V⎓8A, 100W (MAX)
U20 IPS SUPER BATTERY
USB-A Port Output
5V⎓3A/9V⎓2A/12V⎓1.5A, 18W (MAX)
Type-C Port Output
5V⎓3A/9V⎓3A/12V⎓3A/15V⎓3A/20V⎓2.25A, 45W (MAX)
USB-A&C Output
5V⎓4.4A, 22W (MAX)
Type-C Port Input
5V⎓3A/9V⎓3A/12V⎓3A/20V⎓2.25A, 45W (MAX)
Dimensions
127.5*81.9*39.5mm
FAQS
Q1:Why is the Power Station still consuming power even if no other devices are connected?
A:When the AC and Car Socket control button is turned on, even if no devices are being charged, there will still be a certain amount of no-load power consumption.To avoid this, make sure the AC and Car Socket charging buttonis off or turn on the power saving mode when you're not using the Litheli Power Station.
Q2: Can I recharge the B600 while charging connected devices?
A:Of course, but we don't suggest using it this way as it may cause damage to battery life.
Q3: How do I know if my the B600 Portable Power Station is charged?
A:You can view the LCD battery display.
Q4: What's the max power output of the AC output ports?
A:The AC output of B600 can deliver a maximum of 600W to connected devices, and it can only charge/power devices that operate at lessthan a total of 1200W.