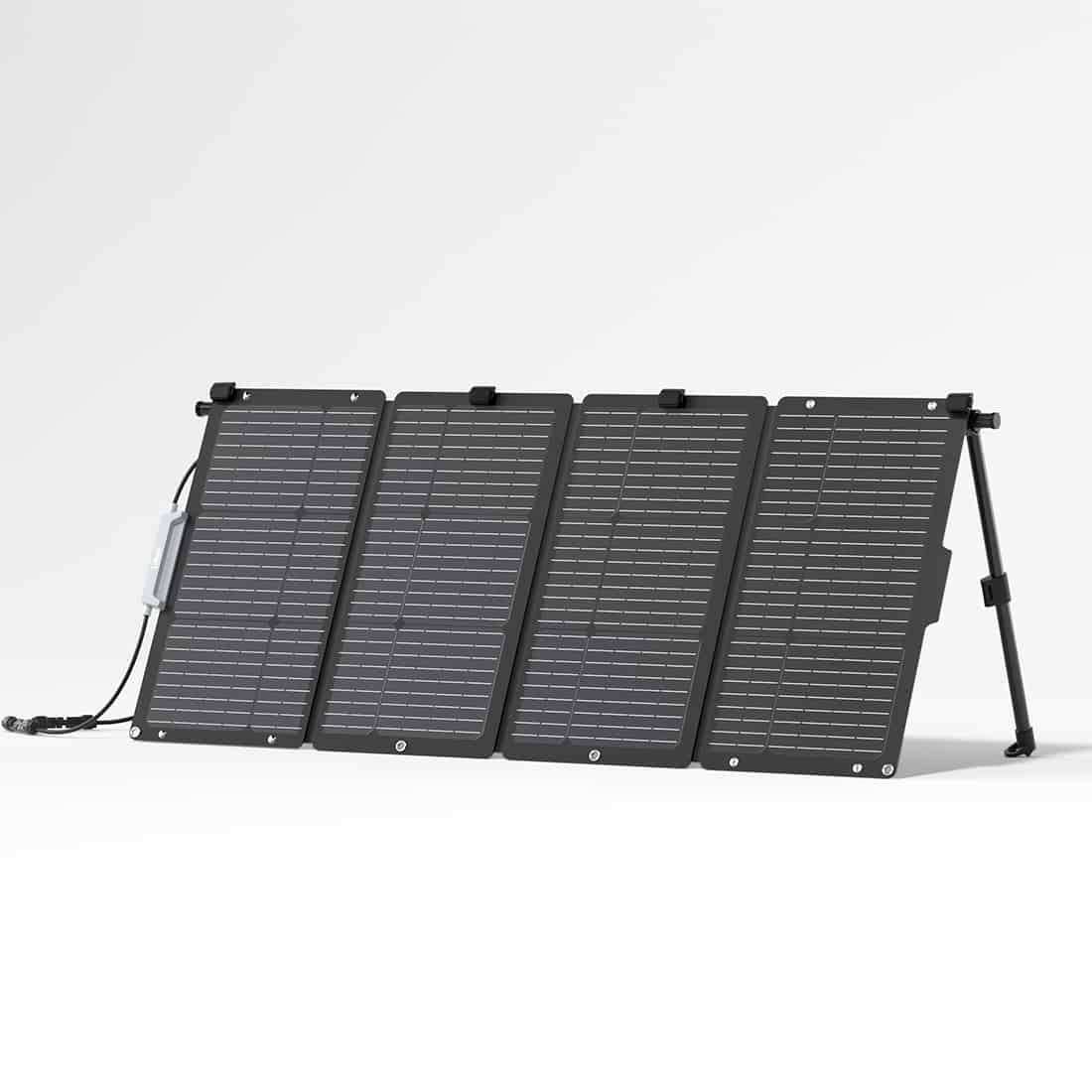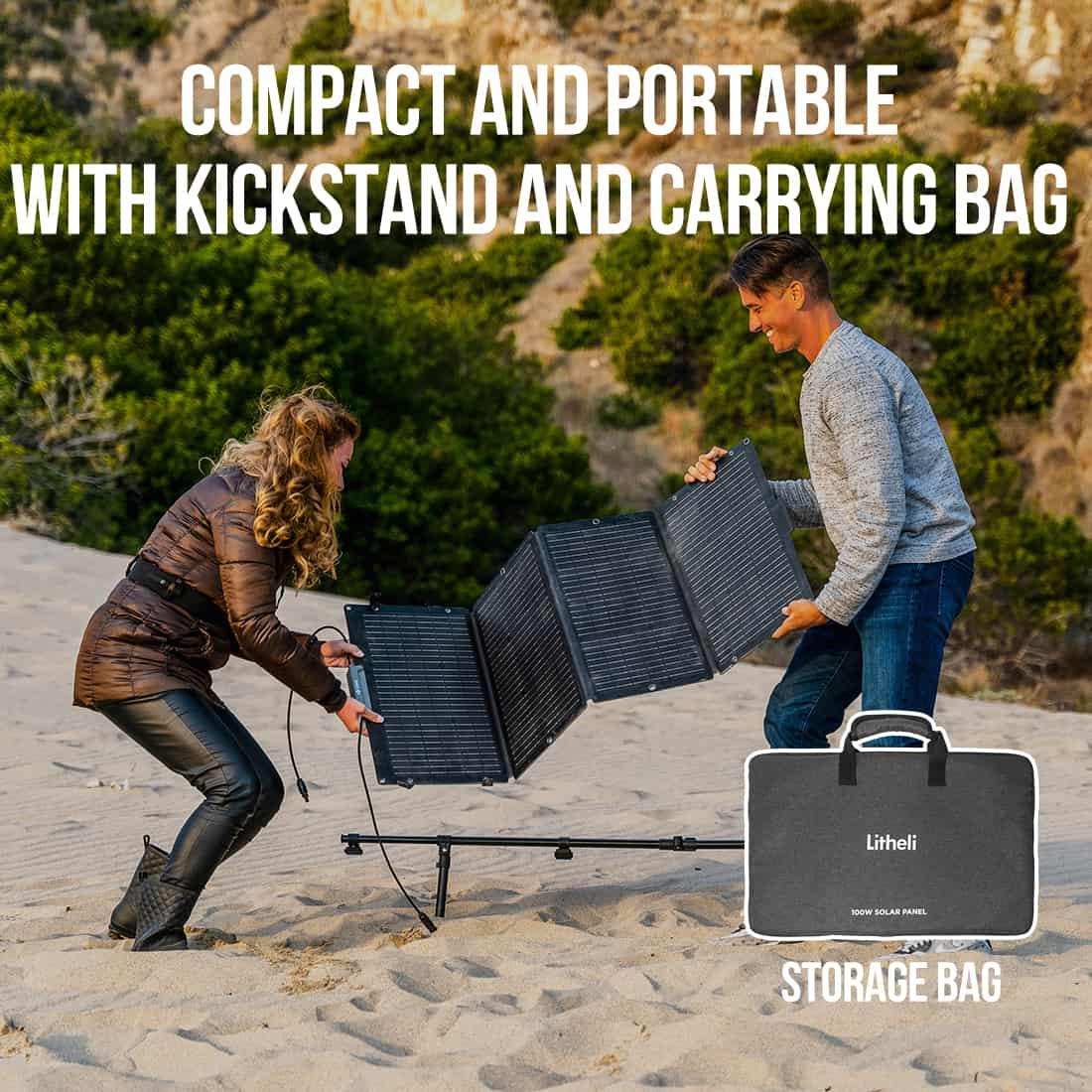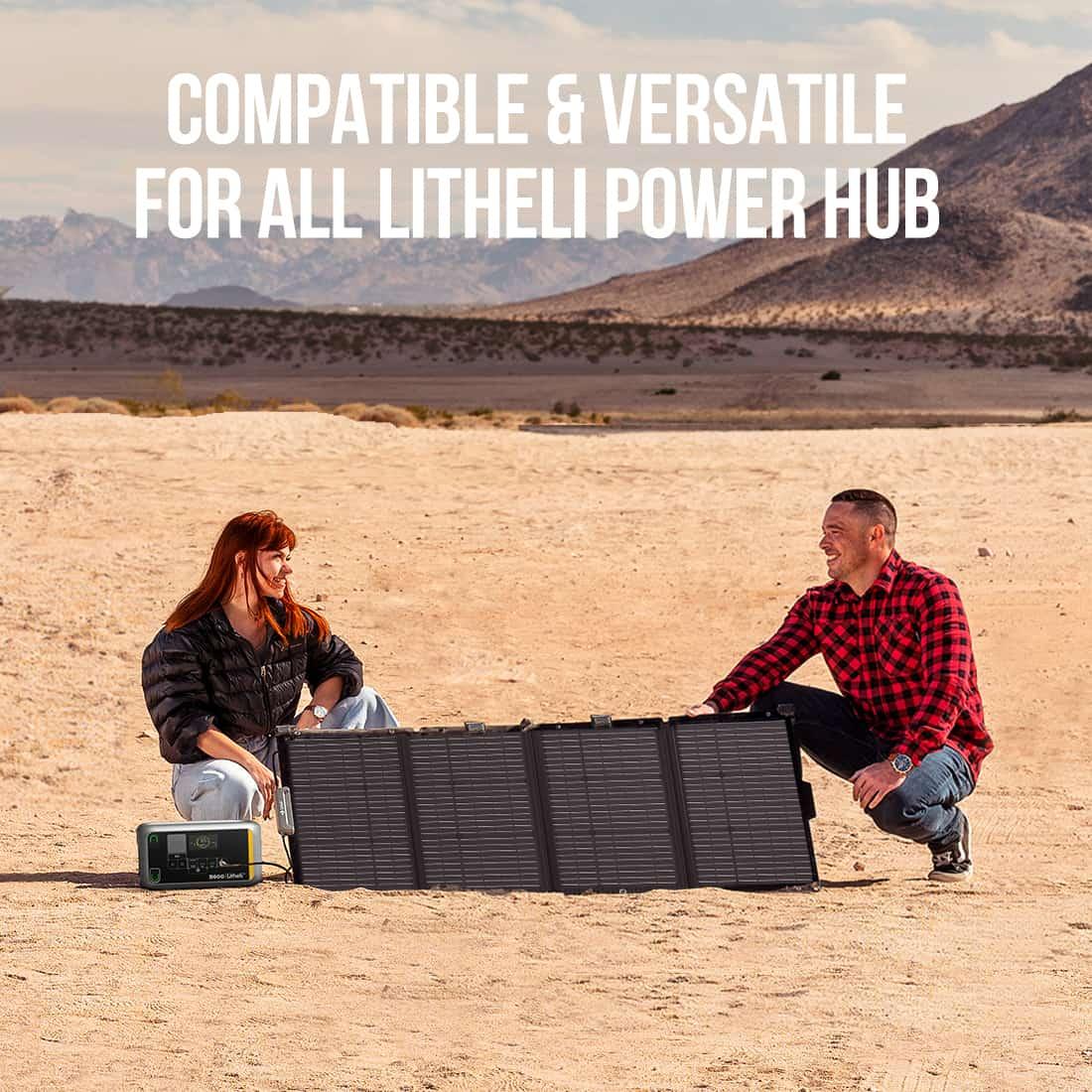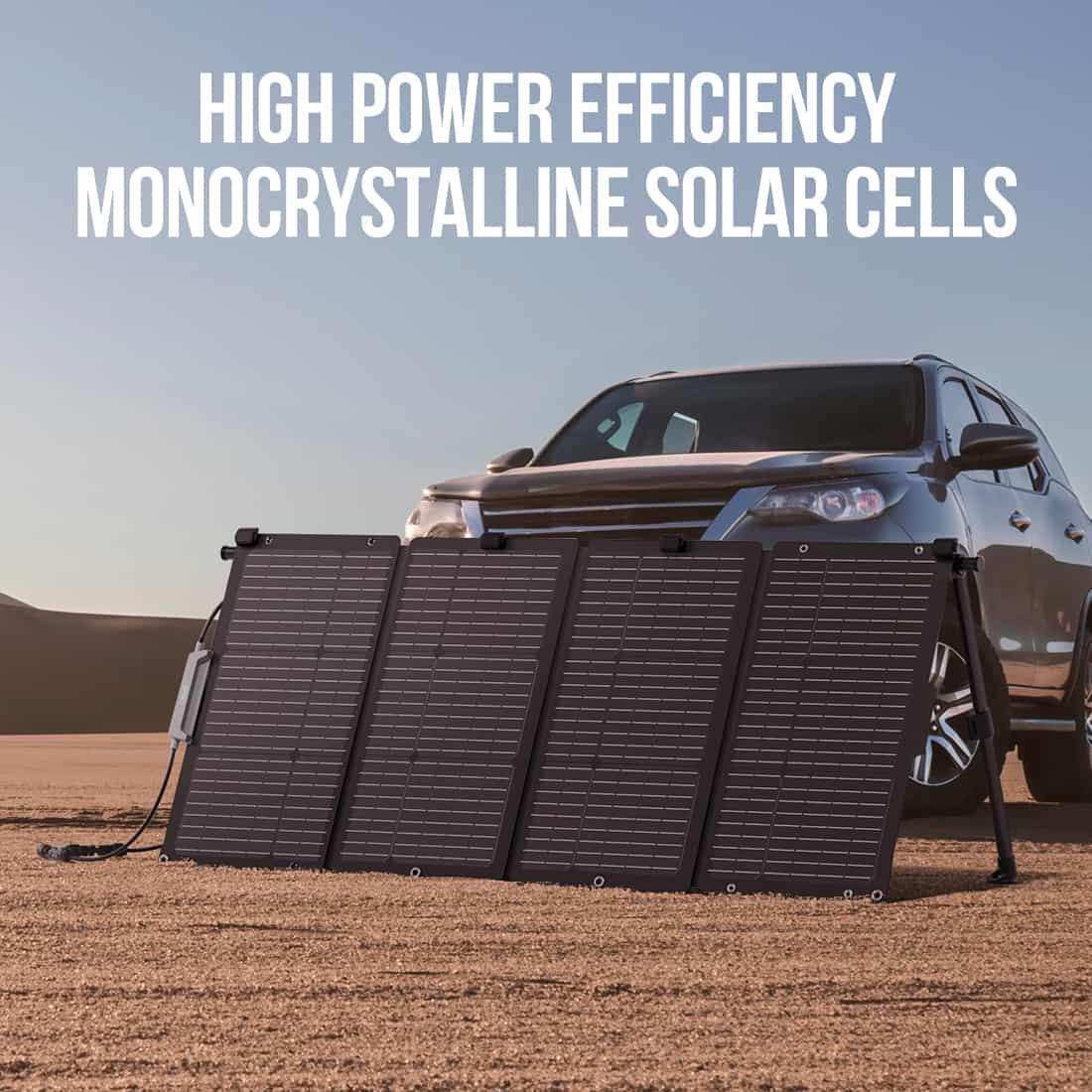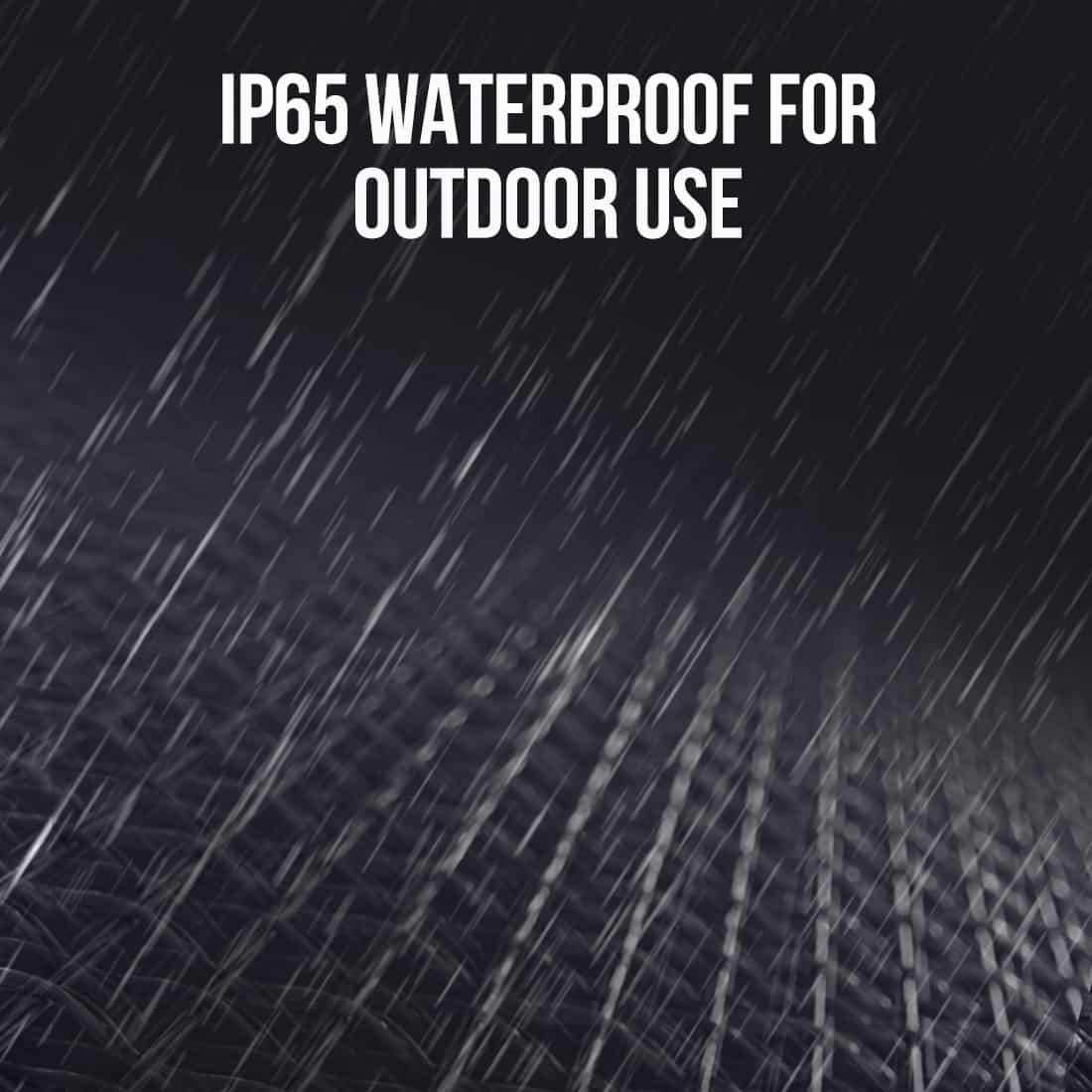 Litheli 100W Solar Panel
More sunlight, longer power. Boasting portability and durability, Litheli 100W Solar Panel is an eco-friendly energy solution through utilizing solar power. From sunlight to electricity, solar energy powers into the future. 
Generating 1.5X faster and more electricity
Converts up to 23% of solar energy into electricity
Long-lasting ETFE-laminated coating
Ultra-compact, lightweight, and easy to set up
Foldable design plus a carry bag for easy transport
Compatible with most portable power stations
Durable, dust & IP65 water-resistant
Adjustable kcikstands best capture the sunlight
HIGH CONVERSION EFFICIENCY
Built with mono-crystalline silicon solar cells, Litheli solar panel can convert up to 23% of sunlight into solar energy, generating 1.5X faster and more electricity you need.
MADE FOR POWER HUB
Litheli 100W Solar Panel is compatible with Power Hub B300 & B600 (sold separately), making it an ideal power solution for road trips, camping tours, and more.
FOLDABLE DESIGN
Our solar panel is a rugged and capable companion for any outdoor excursion. When you're done charging, just fold and pack up the panels and bring them everywhere you go.
DURABLE & WATERPROOF
The ETFE-laminated coating is durable enough to extend lifespan of the solar panel. The solar panel is waterproof to endure all weather conditions, ideal for outdoor activities.
COMPACT & LIGHTWEIGHT
Lightweight at 12Lbs with compact size, it's more portable with a easy-to-carry U-shape handle. You can easily fold it, store it in the car, and take it everywhere with you.
ADJUSTABLE KICKSTAND
Featuring 2 kickstands, the solar panel can be supported and placed firmly on any surface ground. Its adjustable design gives you the best angle to capture the sunlight for solar charging.
GENERAL
Connector
Standard MC4 Connector
Dimensions
14.37*22.4*1.18 in
Material
ETFE laminated mono-crystalline silicon, 900D PVC laminating
POWER
Lamination
ETFE (Ethyl Tetra Fluoro Ethylene)
Cell Type
Mono-crystalline Silicon
Short Circuit Voltage
5.5A
Here's A Video to Guide You
Everything you need to know about your tool & useful TIPs before use.