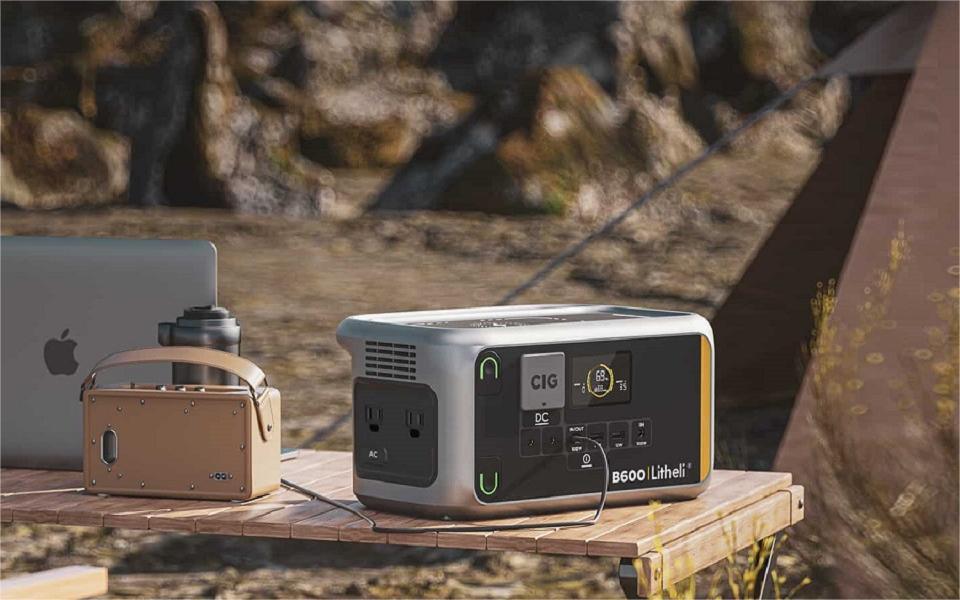 Buying Guide
How To Choose The Best Portable Power Station For Your Needs
Not familiar with portable power stations? This guide will take you through everything you need to know, from what they are to why you need one and what to consider while buying the best portable power station.
Gas generators have long been the go-to option for off-grid electricity. They can be used for residential homes and more temporary situations like camping trips. Still, as the need for electricity and gas prices rise, portable power stations have emerged as a popular alternative power source.  
Not familiar with portable power stations? This guide will take you through everything you need to know, from what they are to why you need one and what to consider while buying the best portable power station.
Why Do You Need a Portable Power Station?
The main perk of owning a portable power supplier is having a reliable backup power source for your home and electronics. They are lightweight, so that they can be just as functional for outdoor activities such as camping, parties, and other social events. Power stations are also low-maintenance as they run on a rechargeable battery and don't require constant gas refills or servicing to keep them working. So, if you frequently camp, hike, experience frequent power outages at home, or often find yourself needing a backup power source, you should consider investing in one.
Portable Power Station vs. Generator
Both gas generators and portable power stations serve the same role of being a backup power supply during power outages. However, there's a world of difference in how they function and their capabilities. So, what's the difference between them, and which is the best option for you?
Gas generators run on fuel, often gasoline or propane, which they convert into electricity while running. They emit carbon monoxide during use, requiring them to be put outdoors as the fumes can be fatal if inhaled. The engine of gas generators also produces a ton of noise during use which can be disruptive in smaller homes and spaces. On the other hand, portable power suppliers have none of these potential problems. They retain energy in their batteries through solar or electric charge and do not emit anything harmful to you or the environment. This allows them to be used indoors, and their sound-proof nature gives them an advantage over gas generators.
Generators are also very high-maintenance. If you use it often, it requires a significant financial outlay on gas and regular servicing of its parts to keep the engine running smoothly. Lack of regular upkeep will lead to engine failure and more money to repair. Portable power suppliers only require you to charge them through a solar panel or wall socket, and after your initial investment in buying them, the power supply is cost-free.
The main perk of gas generators used to be their capacity. A gas generator can power an entire home, an RV, and large appliances, which their counterparts couldn't always do. However, newer power stations have capacities above 500W which can power home appliances like light bulbs, TVs, and refrigerators for hours.
All things considered, portable power stations are a more valuable and beneficial power source mainly because they are easier to transport outdoors but also because they don't produce disruptive noise or emit toxic substances.
Things To Consider When Buying a Portable Power Station
Now that we've established the importance of owning a mobile power source, we must know that not all power stations are identical. There are vital features and specifications to pay attention to make the right choice for your needs. Some of these include:
Capacity
Capacity is the first and most crucial factor you should consider. Capacity is measured in watts-hours (WH) and indicates how much power the device can store in its battery. This tells you the hours the power station will run if it powers a device equivalent to 1 watt of energy.
For example, the Litheli portable power station B600 has a 594WH capacity which can power a 50WH refrigerator for roughly 11 hours. Or an 80WH TV for about 7 hours. It's also important to consider the AC output capacity of your power station, which is measured in Watts (W). This indicates the amount of output energy it can handle before an overload occurs. Meaning that while your power station can power multiple gadgets and appliances at once, you should be wary of how heavy they are.
The more watt-hours your power station has, the more leeway it gives you with how much load you can power and for how long. The Litheli portable power station B300 can simultaneously handle laptops, smartphones, and even a TV for a couple of hours but will reach its limit with a 350W electric cooker. If you have small charging needs like smartphones or lightbulbs, then the B300 is ideal. However, the B600 is more suitable for heavy-duty jobs like powering large home appliances.
Purpose
After considering the capacity of your device, it's also important to extend some thought into why you need a portable power generator. The device you purchase should match your intended use for it. Is it for recreational purposes, home, or professional use? For example, a 300W power station can power some of your smart devices at home for hours, but if you're buying it because you experience more extended blackouts at home often, you might want to invest in a larger capacity power station that can power your small devices for over a day.
Similarly, you may be purchasing your power station for some outdoor entertainment, and while a 300W station can power your sound systems and laptops, you need to consider how long your outdoor activities usually last and how many devices need to be connected at the same time. You can get by with a sound system and light bulbs, but heavier appliances like a TV may require a larger capacity to safeguard against running out of power during the event.
Portability
While practically all power stations are easier to move around than gas generators, some are much lighter and more mobile-friendly than others. This might not be a massive issue if it's a portable power station for RV use, but some situations require you to carry it around by hand, so owning a 65-pound machine isn't ideal.
If your output needs are minimal, our Litheli B300 weighs just 7.1Lbs and has a capacity of 332W. Strong enough to power your phones and laptops to a full charge a few times over while weighing so little. For heavier power needs, the Litheli B600 weighs 12.96Lbs while packing an impressive 594W battery capacity, making it perfect for heavy-duty jobs while being light enough to carry around easily.
While choosing your power station, imagine how it will work in real time. Are you camping or hiking and just require enough energy to boost your phone? Then a smaller power station will suffice as a large unit might weigh you down, and you don't want to be stuck backpacking miles with a heavy device. Always consider your capacity needs and the device's weight.
Durability
There is an endless list of portable power options on the market. But as with any electrical device, the quality difference between these products begins to show after a few months to a year of use. Portable stations will wear down and malfunction if a trusted brand doesn't produce them. It's vital to purchase from a manufacturer focused on creating quality products that stand the test of time.
Ensure the power station you buy is made of durable material that can withstand frequent use indoors and outdoors. It should also have a sturdy handle or wheels to make sure they can be moved around easily without causing damage. Buying a weak power station could lead to effects like slow charging, electric shock, and broken parts after a few months of use.
Outlet Compatibility
Portable power generators come with output sockets to help power up your devices. But the number and kind of sockets that accompany them may vary. The average person has 2-3 devices, so you should ensure the power station you purchase has enough outlets to charge all your devices simultaneously.
For instance, the Litheli portable power station B300 has one AC outlet while the B600 has two; these ports look like a wall outlet at home and can accommodate various devices. They each also have 2 USB-A ports and one USB-C port for fast charging.
Price
The amount you're willing to spend on your power station should be a strong consideration. There are a lot of cheap portable power stations on the market. However, you should ensure you find the right balance between price and quality. A low-cost option might suffice if you have minimal power needs and need a device to boost your gadgets occasionally. But suppose you need a power station for more power-demanding activities like home backup and weekend camping. In that case, you should consider a device with a larger capacity, even if it means skipping the cheaper options.
Safety Features
The power station you buy needs features that safeguard both the device and the owner during use. Without safety features, an electrical device like a power station can take significant damage over time without the owner's knowledge, leading to a malfunctioning device that can harm you and your gadgets through shock or faulty charging. Hence your power station must have a concise safety system.
For example, Litheli power stations have an alarm system that notifies the user of any abnormalities or malfunction of the product. These include input and output overload, battery issues, overheating or fan errors, AC errors, etc. In addition to the alarm, the cause of the issue is also displayed on the device's LCD screen, making it easy to deduce ad troubleshoot the cause of a problem.
Warranty
Warranty coverage is an often overlooked aspect of purchasing any product. It safeguards you against any malfunction after purchase - a common occurrence in electrical devices - and a company's warranty policy shows their confidence in their product's functionality. Litheli power stations have a 3-year warranty from the date of original purchase, and defective products will be repaired or replaced free of charge.
Why Choose a Litheli Power Station?
Litheli power stations have taken the capabilities of power generators to the next level. Litheli is a leader in the power tools industry with new and innovative appliances that run on clean energy, and their power stations are no different. Litheli power stations have redefined portability, with their 600W power station weighing just 12.96Lbs, a 25% drop from industry standards for stations with similar output capacity.
Liitheli power stations also come with bells and whistles that separate them from the competition. They have three charging options: solar charging, AC charging, and vehicle charging options to suit your needs. The Litheli B600 can charge up to 9 devices simultaneously with 2 AC outlets, 2 USB-A ports, 1 Type-C port, a vehicle charging port, and 2 DC 5521 ports. The Litheli B300 can accommodate up to 6 devices simultaneously with 1 AC outlet, 2 USB-A ports, 1 Type-C port, and one vehicle charging area. The B600 and B300 also have a wireless charging area as an extra option.
Litheli power stations also have durable, waterproof solar panels. The panel weighs just 8.9Lbs and comes with two kickstands that can support the panel on any surface, and its adjustable design helps you capture the sunlight from the best angles. Solar portable power stations can recharge in the sunlight, making them a perfect device for outdoor activities.
Conclusion
Due to the number of power station options on the market from various brands, it's easy to think all products have the same functionality. This isn't the case, and the purchaser must carefully consider the above factors while buying a power station.
Earlier power stations were almost as tedious to own as gas generators as they were heavy, malfunctioned regularly, and took forever to recharge. However, new-gen power stations like the Litheli B600 and B300 have raised the standards with their extra light nature, solar recharge panel, and high compatibility, making them the best portable power stations for camping and other outdoor and indoor uses.