Buying Guide
Top Options For The Best Cordless Tools You Need and Why
Cordless tools are the industry-leading power tools and can be used almost anywhere. Here's a guide to the best cordless tools and a few tips on how to choose them.
Untangling wires, finding a power source, and avoiding and even possibly tripping on wires is a little frustrating, especially when you want to get focused on the work at hand. The good news is there is a sure way to avoid all these, and this is by opting for cordless tools when choosing your power tools.
Best Cordless Tools for Garage Use
Specific tools are must-haves in any garage for different tasks and auto repairs around the garage. Therefore having cordless tools with portability and ease of handling would make work in the garage a walk in the park.
Tire Inflator
With the cordless tire inflator, there is no more worry about your tires going flat during a road trip at night because you cannot pump it, and then you find yourself in a blockbuster horror or crime thriller movie. The cordless tire inflator is a quick and efficient tool for pumping up your car or bicycle tires, sports balls, pool inflatables, and other inflatable toys.
Equipped with an auto-stop mechanism that prevents inflation, a LED light for roadside emergency use, and a choice for your desired pressure range, this cordless tire inflator delivers efficiently. It helps you save time and energy and keeps you from potential troubles.  
Handheld Vacuum
Cleaning with a vacuum around the house, workplace, or car is no easy task. It is even more frustrating and less efficient when you have to maneuver cords, avoid fraying the cord, and look around for new power outlets as you move around. You can solve all these problems in one fell swoop by using the handheld vacuum cleaner. 
The Litevac handheld vacuum cleaner is portable, easy to use, and efficient in small and large spaces. It has a high suction power capable of sucking up any dirt with ease. Its lightweightedness makes it easy to carry around the garage with less strain on the arm.  
Portable Power Cleaner
A power cleaner is an innovative tool for washing cars and hard floors. Cordless, lightweight, and compact, the power cleaner gets the job of cleaning your home's hard floors and car interiors done with ease.
Best Cordless Tool for Home Cleaning
Buying cordless tools for home cleaning is very sensible as it eliminates hazards associated with cord cleaning tools like tripping, electrical sparking, etc. this also makes it a safe zone for kids. Below are some of the best cordless tools for home cleaning.
Upright Vacuum
With the cordless upright vacuum cleaner comes conveniences, and minimal effort is put into cleaning. The upright vacuum cleaner is tall rather than wide; therefore, it can fit into small storage spaces without sticking out and looking out of place. It has an impressive total of 3 brush heads for multi-scene cleaning.
It also has all its components connected as one unit, and the powerful suction power makes the upright vacuum cleaner one of the best cordless tools for household cleaning.
This compact, convenient cordless power tool would certainly be a game changer for your house cleaning.
Wet and Dry Vacuum
Both dry dirt particles and wet spills can be cleaned with this multipurpose vacuum cleaner. Dust, stuck-on grime, left over food, stains, and debris can be cleaned off the floor with a wet and dry vacuum cleaner.
Think of this versatile cordless tool as a 3-in-1 tool with a vacuum, mop and spray! Better still, its one-off mop pads also keep your hands clean.
The cordless wet and dry vacuum cleaner is versatile and speeds up cleaning. It also has a swappable U-battery which doubles in function as a power bank.
Due to its excellent design, which minimizes the possibility of electrical sparking, it is perfect for use at home, at job sites, or the workplace.
Best Cordless Tool for the Cold Winter Months
Those chilly long winter months only mean three things: snow, snow, and snow. Snow everywhere calls for tools to help get them out of the way. While we cannot get them out of sight during the winter months, we can always get them out of the way with these cordless tools.
Heat Gun
This power tool is a tool that produces a stream of flameless hot air. This device can be used in so many different ways.
It can be used at home or a job site. This heat gun can dry damp wood or other damp surfaces, thaw frozen locks and copper pipes, defrost freezers, etc.  
With its portability, adjustable airflow, and lightweight, it is convenient, handy (also suitable for DIYers), and easy to carry around, all while still getting the job done. As it is cordless, you can use the tool on your equipment and surfaces without moving them around.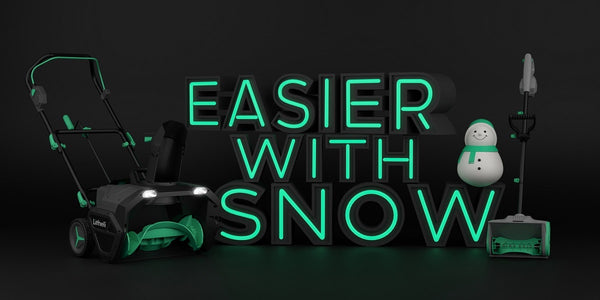 Snow Shovel
Say goodbye to hours of manual labor of shoveling snow with the electric cordless snow shovel. With no need to find a power outlet to use the tool, you can use the snow shovel to clear snow outside or in a yard where there is no power outlet.
Compact and handy with a powerful clearing power, you just need to push the machine over the snow and get the snow out of your way to give a clear path.
However, the cordless snow shovel should not be used to clear snow that is more than one foot deep. This limits where you can use the machine. But this is where the snow blower comes in.
Snow Blower
Effective and time-saving, the snow blower does a better job of clearing snow. It is beneficial if you live in areas where it gets very snowy. With a snow blower, there is no need for the bending, tossing, and lifting associated with snow shoveling. A snow blower can clear deeper levels of snow.
The cordless snow blower is exceptionally eco-friendly as it runs on batteries, is convenient, easy to use, and requires little maintenance. This tool would help you get ready and enjoy the long chilly winter months without worrying about the labor and hazards that come with snow shoveling.
Best Cordless Tools for Yard Work
Yard work involves a lot of work in the garden and areas outside the home. There are not always many power sources in the yard, and you get to save money on gas and fuel, which makes choosing cordless tools for your yard work a better option.
Working in the yard requires a lot of moving around. With a cordless tool, you eliminate the risk of tripping over wires and the stress of tossing wires around. Also, working in the yard with a heavy tool can make the already strenuous chore get very frustrating. Therefore, using a lightweight cordless tool would make the work a lot easier.  Below are some of the best cordless tools that are must-haves for your yard work.
Hedge Trimmer
Who doesn't love a carefully manicured garden or yard with beautifully trimmed bushes? So whether you are an expert gardener or DIYer who wants a more manicured backyard, the cordless hedge trimmer is a must-have tool.
With unrestricted movement around the garden, while using the cordless hedge trimmer, you get to trim, prune and shape any way you like, even in hard-to-reach areas.
The cordless hedge trimmer gives room for increased efficiency and safety. As it is lightweight, it reduces the fatigue and strain on the arm you would have otherwise gotten from carrying around a heavy corded hedge trimmer.  
Pole Saw
The pole saw lets you have your feet planted on the ground while you prune high-end hard-to-reach hedges or tree branches. The cordless pole saw offers convenience and no hassles with wires, little to no maintenance, ease of use, portability, and ease of storage.
Leaf Blower  
The cordless leaf blower is both eco-friendly and quiet. The leaf blower effectively cleans leaves and debris off any outdoor surface.  It requires little maintenance as it runs on batteries, is lightweight, and can be carried around the yard without stress.  
 It allows you to set the range of the flow of air and the direction of the blowing. The cordless leaf blower is the best cleanup device for preparing for the fall season.
Mower
The cordless mower allows you to cover more distance without worrying about the length of wires or tripping over cords. It is lightweight and has a quiet operation which makes mowing a whole lot easier when you don't have to haul heavy equipment around the yard.
It has adjustable features that can be controlled to suit your needs and preferences. As it runs on batteries, it requires little to no maintenance. The cordless mower is a highly efficient power tool that you should add to your yard tools collection.
String Trimmer
String trimmers trim grasses in tight spots that a lawn mower can't get to, like under decks, tight spaces near delicate plants/shrubs, and along fences. A cordless string trimmer does not have a cord that restricts the range of movement.
This tool is a perfect fit for your yard as they are lightweight, easy to use, and easy to carry around, and it can last as long as a gas string trimmer and require less maintenance compared to a gas string trimmer.
Some of them have a handle that can be adjusted to a longer or shorter length to suit your needs and adjustable shaft length and cutting head angle that you can control to suit your comfort.
Chainsaw
The cordless chainsaw provides efficient, smooth cuts and an automatic oiling system for friction between the bar and chain of the chainsaw.
It is battery powered, which makes it eco-friendly and can be carried around easily. It is lightweight and requires less maintenance.
Best Cordless Tools for DIY and Handyman Tasks
Repairs and DIY projects around the home become less stressful and more fun-filled when you have an arsenal of cordless tools.  Below are some of the best cordless tools for DIY and Handyman tasks.
Drill Driver
The drill driver is a very versatile power tool that has a wide range of uses. It can be used to make a hole, tighten loose screws and bolts, drive a screw into a hole, and do many other repairs around the house.
The cordless drill driver has numerous advantages as it is handy, compact, and runs on battery power, making it lightweight. A cordless drill driver would always come in handy for many repairs and projects around the house.
Angle Grinder
An angle grinder is a handy tool for DIYers and handypersons that do metalworking. The angle grinder helps cut and grind metals, sharpen tools, clean and polish metals, cut stones/tiles, and clear mortar or grout.
An angle grinder is a handy tool; therefore, buying the cordless options saves you energy and improves efficiency as the cordless angle grinder is lightweight and cords-free.
Paint Sprayer
Your painting projects can get more manageable and more hassle-free with the cordless 20V paint sprayer. Whether you want to paint a wall, a surface, or furniture, the paint sprayer will help you bring the colors to life faster than a paint brush or roller.
Some cordless paint payer comes with adjustable features that you can control to give the desired speed and direction you want to work with.
Impact Driver
The cordless impact driver provides a fast way of driving in nails, bolts, and screws to walls, furniture, or surface.
This power tool helps you eliminate awkward sticking-out nails around the house and makes handy jobs or DIY projects easy to handle.
Things to Consider When Choosing Cordless Tools
When choosing cordless tools, some factors should be considered, and specific features to look out for. Some of them include the following.
Cost of Maintenance
The cost of maintaining the tools is an essential factor when choosing cordless tools.
However, many cordless tools run on batteries, requiring little to no maintenance, such as oiling or wire repairs, and many other maintenance needed for a corded or gas power tool are eliminated.
Weight of the Tool
Heavyweight tools can make work more laborious and frustrating, especially when you have to use them for longer hours or very frequently. So when choosing tools, it is essential to consider the weight of the tool
Most cordless power tools are very lightweight compared to their counterparts, making them an excellent choice for tools that are to be used for day-to-day repairs and projects.
Price
When buying any tool, the most crucial factor to consider is your budget. How much are you willing to spend? How much is the equipment you need? And what is the best equipment that would give you the best value for your money? All these questions should be answered when setting out to buy a power tool.
It is important to note that you should not place the price over the quality of the tool. Buying a pricey quality tool and using it for much longer is better than buying a less costly tool that you must always repair.
Battery Compatibility
Cordless tools are battery-powered, hence having great batteries is non-compromisable. For optimum performance, you would need only the best performance and hecking the battery compatibility of the tools is essential.
At Litheli, all our batteries work with all the products from the same voltage series. Isn't that amazing? All you need to do is buy one battery and use it for multiple Litheli tools, helping you save money, time and space.
While some batteries can be charged when they run out, some need to be replaced completely. In most scenarios, it is extremely advisable to get a rechargeable battery and a battery charger to go along with it.
Also, it would come in handy to buy an extra battery to use as a spare to save charging time and extend your working time. It would seem a pricey investment that would keep serving you for years. However, it all depends on your budget.
Where to Find the Best Cordless Tools
Cordless power tools offer an irresistible convenience. If you need the best cordless tools for personal projects, work, or even maintenance around the house, we have just the right fit for you. With quality products from pristine manufacturing all at great prices, you can begin your journey to ease that our battery-powered tools have to offer. Check out our entire cordless product line up here.