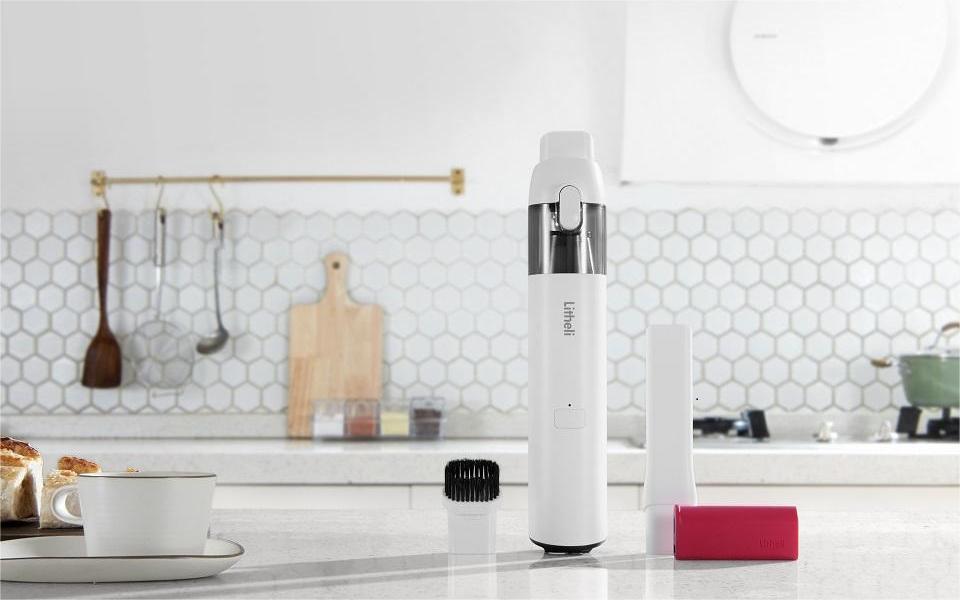 Perfect Your Home
LiteVac-The Best Cordless Handheld Vacuum Under $100
Looking to buy the best cordless handheld vacuum in the market for less than $100? The LiteVac Handheld Vacuum Cleaner Cordless is just the one for every task.
Minor dirt, like dust, dry spills, and tracked-in dirt, can be a real chore to handle. It's even harder when you have pets and constantly have to deal with their hairs getting around. Pet hairs are on another level of intrusion as they never seem to go off completely.
However, with the right cleaner, you can find these tasks easier. In this article, we will explore cordless handheld vacuums, devices known to help the homeowner conduct efficient cleaning in the face of both simple and tough dirt.
Benefits of Cordless Handheld Vacuums
Homeowners have since found that handheld vacuums are more effective in getting out dirt and hairs than traditional vacuum cleaners. When you take out a cord from the handy devices, they are simply unstoppable and can get to all dirt and crumbs no matter how hard they latch onto sofas or hide in tricky areas. You simply grab and go!
A trusty handheld vacuum with no cord is a must-have in every home. Aside from the fact that the devices are great for quick cleanups and can go where bulky and corded vacuums can't, they are safer to use around the home. If you or your children have ever tripped over the cord while cleaning, you probably know this already. There is also the safety issue introduced by electricity.  
Having looked at some of the benefits, let's go over why you need a cordless handheld vacuum in your cleaning arsenal.
What Do You Need a Cordless Handheld Vacuum For?
The importance of owning a handy cordless vacuum cannot be overemphasized. But many homeowners ignore it. After all, why spend more on another vacuum when you already have the traditional corded one? You will find many good reasons to make that investment within the following uses:
For Home Cleaning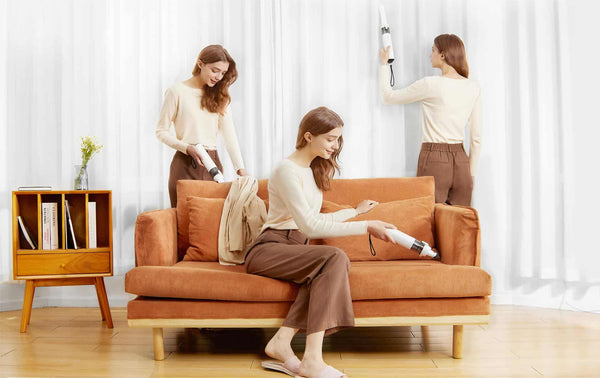 With a cordless handheld vacuum cleaner in your home, you can easily keep your surroundings clean 24/7. For one, you can quickly grab your handy vacuum cleaner when you need to get rid of all kinds of dirt from your floors. The device also works well to rid pillows, carpets, and upholstery of deep stains, pet hairs, allergens, and dust mites.
One might argue that bulky and corded vacuum cleaners can do these tasks, too, and that's true. However, how efficiently and easily can they do it? Can they reach tricky areas and hard-to-reach corners without exposing you to allergies or even asthma? How easy is it to always bring it from the storage and unpack it for use?
Due to their cordless nature, these types of handy vacuum cleaners always beat the traditional corded ones when it comes to reach. If you invest in one, the windowsills in your home will no longer be filled with dust and allergens as the device can help you get to those places and keep them clean at all times.
For Car Cleaning
Statistics show that the average person spends a total of 4.3 years in their car. That is a lot of time, and you want to ensure you don't spend all that time among bacteria, dust mites, and viruses – cars tend to have many of these. Staying in such an environment is highly unhealthy and can lead to a number of health complications. You can simply avoid this with a cordless handheld vacuum for cars. These cleaners are designed to give the seats and carpets of your vehicle a thorough clean with ease so that every time spent in there is a toast to refreshment and good health.
For Office Cleaning
Has a bag of chips ever slipped from your hands while snacking in the middle of work? Or have you ever knocked your plate off the table and helplessly watched as its content spilled all over the floor? Sometimes, more than the wasted food, the thought of the once-spotless floor getting dirty can be very daunting and conflicting as you don't want to leave your important work to play cleaner for an extended period. But that worry won't last long when you have a handy vacuum cleaner. You will find how easy it is to get your floor clean again with no significant disruption to your schedule.
Factors to Consider When Looking for The Best Cordless Handheld Vacuum
There are many offerings of cordless handheld vacuums in the market. To ensure you don't end up paying for poor performance mixed with disappointment, you should look for a list of features before considering one. Here are some to guide your purchase.
Weight
Considering the weight of a new cordless handheld vacuum is vital as it is only worth the investment if it doesn't involve any form of strain. Some cordless handheld vacuums do feel heavy after using them for a while. However, by thoroughly examining the specifications of the options you come across, you can avoid those types.
Compactness
The compactness of a cordless handheld vacuum can make mundane tasks of vacuuming stairs, car interiors, and upholstery considerably easy. You also won't have to worry about storage space with a portable size cleaner.
Suction Power
This is one of the most vital features to consider in a cordless handheld vacuum. After all, a vacuum is only as good as its suction power. You have to make sure your choice vacuum can actually suck up dirt, pet hairs, and other debris. Some manufacturers fail at this, with their vacuum cleaners only managing to move dirt across the room. But with a quality cordless handheld vacuum, the job can be done right.
Working Time
One of the benefits of corded vacuums is that you do not get to worry about running out of battery in the middle of a cleaning task. A good cordless handheld vacuum should meet up to that standard with ample battery life.
Reach
It is essential to check the design of a cordless handheld vacuum before going for it. Is it flexible? Can it get to hard-to-reach areas like underneath your sofa and up over window sills? You want to ensure the cleaner you chose has a wide reach, so you don't have to change the position of your furniture every time you need to clean and risk scratching or scuffing your floor.
Ease of Use
One of the factors to look out for in your research is the ease of use. Getting stuck with a vacuum with confusing settings is no joke. If it involves a lot of fiddling, strike it off your list of options and look for options that require nothing more than a tap or touch.
Accessories
The essence of investing in a cordless handheld vacuum is to be able to work around tricky areas like stairs and window sills. It should also make car or upholstery cleaning a breeze. To be able to achieve the cleaning of such a wide range of surfaces and areas and be considered the best cordless handheld vacuum, a device must have multiple cleaning heads and different accessories to tackle various cleaning needs adequately.
Noise Level
While suction power is often associated with loud noise, it doesn't have to be. Imagine waking up the whole house – and your neighbors, too – just because you are trying to clean up a spill! The best cordless handheld vacuums on the market will not put you through the cries of frustration that will follow. Always remember to check for the noise level of a cordless handheld vacuum when looking for one. Anything higher than 65 db is a no-no.
Affordability
If you are looking for a cordless handheld vacuum, chances are you already have a bigger corded one. Hence, you don't want to spend much of your dollars on yet another cleaner, however helpful it might be. And you really don't have to. Whether you are looking for the best handheld vacuum for your car or quality handheld vacuums for pet hair, there are cleaners with low price tags that are designed to get the job done effectively.
The Best Cordless Handheld Vacuum Under $100
Finding a cordless handheld vacuum that ticks all the boxes is almost impossible. And when you manage to find one, there is a chance that it is designed with an overly small bin attachment. Cordless handheld vacuums also tend to have a shorter battery life than corded or non-handheld ones. However, despite these limitations, our U4 Cordless Handheld Vacuum Cleaner (LiteVac) has a space on top of the list of the best cordless handheld vacuums under $100 you can buy.
The suction power of this cleaner was designed to compete with bigger ones. Coupled with a brushless motor, its two suction levels of 6000 Pa/10000 Pa will effortlessly remove dust, pet hair, bacteria, or any harmful allergen you want to tackle. The more impressive part of this cleaning power is that it comes without loud noise due to its acoustic vent. This means that you can do some quick cleaning in the home without "causing trouble" with your family members or housemates. Your neighbors will also be better for it as you can clean your car in the garage without disrupting their lives.
The LiteVac is designed so that no area in your house is a blind spot. It comes with two cleaning heads – a crevice tool and a brush nozzle. The crevice tool, long and deft, is built for hard-to-reach areas, while the brush nozzle is great for furniture surfaces and textiles as it stirs up stubborn dust before vacuuming.
Other features of this handy vacuum cleaner include:
Ultra-Lightweight and Compact Size
The LiteVac weighs 340g without a battery. Add that to the battery of 119g, and it is still not as light as a 500ml bottle of water. The size is not much different from a wine bottle, with its measurement of 2.5 inches in length, 2 inches in width, and 11.4 inches in height. The compact and non-heavy design makes this portable handheld vacuum cleaner easy to carry and maneuver. It also fits well in a small space, so you don't have to worry about storage.
Ease of Use
Some vacuum cleaners are built with so much complexity that you have to take tutorials to learn how to operate them. Not the LiteVac! This best cordless handheld vacuum under $100 is easy to operate and only needs a single touch to work up some good cleaning. The considerable time some users of other cordless handheld vacuum cleaners spend doing the double work of cleaning the device after use is also eliminated with LiteVac's double-filtration that uses a reusable one-touch-open cup. This way, you can empty dust by clicking on a button. Your hands stay clean throughout!
Long Working Time
The LiteVac is equipped with a U-BATTERY that supports long working time. And it doesn't take all day to recharge with its super fast-charge technology. Within 90 to 120 minutes of charging, the battery is fully ready to operate without interruption.
Double Filtration
Designed to be one of the best cordless handheld vacuums under $100, the LiteVac is equipped with a HEPA filter element and a high-hardness-steel mesh cylinder. These filters are removable and washable in order to keep the high cleaning efficiency of this portable handheld vacuum cleaner.
Complete Accessories
Besides the main body, the LiteVac comes with everything you need to start using it immediately – a strong extension hose, a brush head, a storage bag, and an efficient u-battery complete with a charging cable. A user guide is also included to help you navigate the machine.
Affordability
Without question, this cleaner is the best cordless handheld vacuum under $100 on the market. For $69.99, it packs a heavier cleaning punch than others within its price range. Even the ones with more expensive price tags have nothing on the LiteVac as it ticks all the necessary boxes – and even more.
What Sets LiteVac Apart From Your Average Cordless Handheld Vacuum?
The LiteVac boasts numerous features you cannot easily find around. Here are some of them.
Multifunction
The most distinguishable feature of the LiteVac revolves around its multifunctional use. Whether you need it to ferret out crumbs sunk in between your couch cushions or for your after-Christmas cleanup, this cleaner is up to the task.
Super Battery
Another area of strength lies with the battery. For one, the U-BATTERY does more than recharge fast and last long. It is a power bank itself! With the backing of 4000mAh power, you can fire away all day without stopping. You can also use it to charge other mobile devices.
Assurance of Warranty
The LiteVac comes with up to five years of warranty. It is not every day you come across a cordless handheld vacuum with such a warranty description. This should tell you how confident we are of our offering. This device will not only do what it says it will — it will serve you for a long period as it is built to stand the test of time.
Proven User Satisfaction
If the warranty doesn't assure you of the efficiency this product offers, the reviews should. Our website is filled with fantastic reviews from customers who have purchased the Litevac and have witnessed its superb cleaning power! One customer found it "incredible how this small vacuum can perform much more than you can expect."
"For such a small and portable vacuum, it has great suction and the included attachments are a lifesaver when you've got kids making messes in the car," another user testified with a promise of buying another for their second vehicle. 
Whatever your interests are, you sure can have them in this handy vacuum cleaner. One use, and you will find it is indeed the best cordless handheld vacuum under $100.
Conclusion
If you are looking for an efficient and valuable powerhouse for cordless and handheld cleaning, we advise you to look no further than the Litevac. However, you don't have to take our word for it. Look through the features and specifications here, weigh your options, and you will find that you get to spend less for more with this cordless handheld vacuum.