Buying Guide
Winter's Better with Litheli Snow Removal Tools
Learn the advantages of Litheli's cordless snow removal tools in this article, along with snow blower and shovel details, a buyer's guide, FAQs and customer testimonials.
As temperatures drop, it's time to prepare for the winter weather that's sure to follow. Whether you're facing six inches of snow or sixty, you can win this winter with Litheli snow removal tools. Consider a different way if you don't want to spend hundreds on hiring a plowing service or hours freezing outside as you shovel the old-fashioned way. Powered, cordless snow removal tools like Litheli's snow blower and snow shovel can help you plow through the winter with ease.
Read on to learn more about Litheli's snow removal tools and how they can make your winter less work and more wonderland.
What are the Different Types of Snow Blowers?
Depending on where you live and what your winter looks like, a snow blower could be an incredible luxury or a vital necessity. If being snowed in isn't an option for you, it can be helpful to look at the different kinds of snow blowers to determine which one is best for you.
Cordless electric snow blowers are generally single-stage devices ideal for clearing small to mid-size paved areas with powdery snow between 8-12 inches deep. Recent battery technology gives cordless snow blowers the same power as gas and corded options with unparalleled convenience and maneuverability. Utilizing removable lithium-ion battery packs, cordless snow blowers deliver the same power as gas models, without the numbing vibration, noise, and no fumes at all.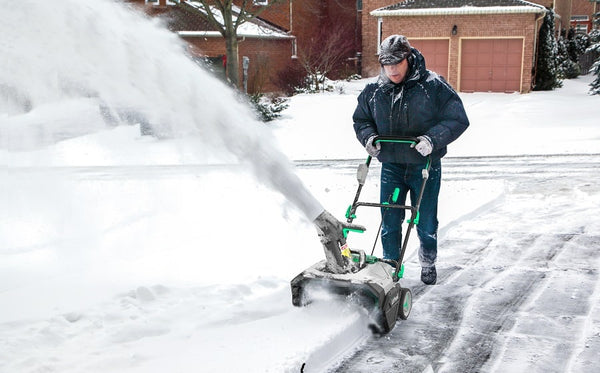 Corded snow blowers offer eco-friendly alternatives to gas models. While they tend to be lightweight and compact, corded snow blowers limit the area where you can use them. These devices are ideal for clearing decks and walkways where larger models may prove challenging to use. The cord connects you to an unlimited power supply, but you're bound by how far the extension cord will stretch.
Gasoline-powered snow blowers offer significant power and are ideal for clearing large areas. However, this type of snow blower delivers that power at the cost of considerable vibration, jarring noise, and unpleasant fumes. Most two-stage and three-stage snow blowers, capable of moving wet, icy snow up to 23 inches deep from both paved and gravel areas, are gas-powered. Modern technology has moved on from the day of pull-starts, and most models feature electric start.
Why Choose a Cordless Snow Blower Over Corded or Gas Options?
Corded and gas-powered snow blowers have limitations you can easily overcome with a cordless model. Ditch the limitations of the extension cord or gas can and clear snow easily with a cordless snow blower. The lightweight frame lets you carry it anywhere, with the versatile maneuverability not found in larger models, and the eco-friendly battery ensures that clearing your driveway doesn't hurt the planet.
Why Litheli Cordless Snow Blowers Stand Out
Our snow blowers work with Litheli Li-ion batteries and use a brushless motor which requires little to no maintenance. The brushless motor on our cordless electric snow blowers delivers 40% higher energy conversion than traditional brushed models, generating powerful auger rotation while reducing vibration and noise during operation. Litheli's Li-ion batteries offer the voltage and capacity required to break through overnight snowfall, and they remain protected from cold, wet weather with a translucent cover.
Our cordless snow blowers feature a flexible knuckle discharge assembly, ensuring you can throw snow where you want it. The chute rotates 180 degrees, and an eight-angle deflector lets you throw the snow away from your walkway in whatever direction you like.
Why Choose a Cordless Snow Shovel Over Corded or Manual Options?
Cordless, powered snow shovels offer a revolution in the snow removal industry. Electric snow shovels are ideal for areas where snow blowers would be overkill, like a short walkway, elevated deck, or rooftop. The hard work and backache associated with using a manual snow shovel are well known. Rather than subjecting yourself to the inefficient, time-consuming, and ache-inducing work of manually shoveling snow, consider a battery-operated snow shovel.
Corded options provide similar results but limit your maneuverability, while Litheli offers a lightweight, powerful cordless option to clear a 12" path of snow swiftly, efficiently —  and anywhere. Litheli offers a cordless snow shovel with maximum mobility, allowing swift snow removal on steps, decks, and slopes. The device is lightweight and can be carried anywhere without much effort at less than nine pounds. Our cordless snow shovels are ideal for powder snow removal, clearing up to 12 inches and throwing snow up to 8' high and 20' away from the path.
Litheli snow removal tools make it easier to prepare for your next snowstorm. Plow through the powder with powerful, lightweight Litheli cordless snow shovels and cordless snow blowers. Let the snow-clearing machines do the work for you, saving the backache and hours of labor. With Litheli cordless snow removal tools, you have an eco-friendly option that eliminates unpleasant toxic gas fumes and numbing vibrations.
Power snow shovels and cordless snow blowers from Litheli use lithium-ion (Li-ion) battery power to make snow removal faster and easier. These tools are small, lightweight, and maneuverable, putting DIY snow removal in the palm of your gloves. Litheli snow removal tools use the same 20V and 40V batteries that work with all corresponding Litheli powered tools using the same battery.
Litheli 20V 12″ Cordless Battery Snow Shovel
Save the backbreaking work of manual snow shoveling with Litheli's cordless powered snow shovel. It throws snow up to 8' high and 20' away while clearing a 12" path. Perfect for powder snow removal from the sidewalk to the rooftop. The lightweight design offers unmatched portability and saves you time and effort.
Swift snow throwerfor steps, decks, and slopes
Ideal for powder snow removal
Maximum maneuverability, clearing snow where traditional options struggle
Lightweight, at only 8.8 pounds
Dual-action starting prevents accidental activation
Adjustable auxiliary handle to find a suitable grip position
Litheli 20V battery works with all compatible Litheli 20V tools
Free shipping, secure payment, 24/7 customer service, maximum five-year warranty
Enjoy a strong, fade-free power feed with a 4000 mAh Lithium-ion battery
Litheli 40V 20″ Cordless Electric Snow Blower
Eat through the snow with Litheli's 40V cordless snow blower, clearing a 20' wide path through snow up to 12" deep. This powerful tool makes removing snow from your driveway, patio, sidewalk, or walkway quick and effortless.
Conquer snow build-up from 6 to 12 inches
Put snow where you want it with adjustable snow discharge direction and height
Dual LED headlights illuminate your path at night
Brushless motor requires almost no maintenance
Blow snow up to 25' away
Accidental activation prevented with dual-action start
Foldable handle minimizes storage space
Electric engine eliminates pollution and noise
40V battery works with all Litheli 40V tools
7" rubberized wheels offer a safe grip on slippery ground
Maximum five-year warranty, secure payment, 24/7 customer service, and free shipping
Litheli 2x20V 20″ Cordless Snow Blower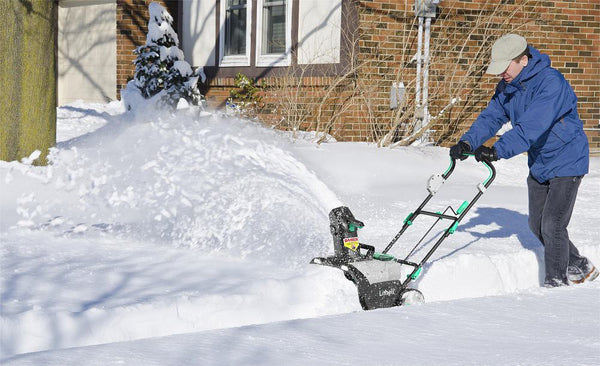 Add another powerhouse tool to your Litheli 20V tool collection with the 2x20V cordless snow blower. Eating a 20" path through snow up to 12" deep, enjoy high efficiency and excellent portability as you work to clean your walkways.
Perfect for powder snow removal
Almost no maintenance is required for the brushless motor
With adjustable snow discharge direction and height, throw snow where you want it
Enjoy better visibility at night with two 5W LED lights
Secure payment, free shipping, maximum five-year warranty, and 24/7 customer service
Users are protected from accidental activation with dual-action start
Blow snow up to 20' away
A design featuring a foldable handle minimizes storage space
Eliminate the pollution and noise caused by gas and corded models
The versatile 20V battery works with all Litheli 20V tools
Lightweight, 37-pound frame
7" rubberized wheels deliver traction on slick ground
Litheli Snow Removal Tools Buyers Guide
While both Litheli snow blowers offer a 20" clearing path, you must choose between the model with one 40V battery or two 20V batteries. Because the batteries are compatible with all other Litheli cordless tools of the same voltage, the best choice will likely match your other Litheli devices.
Enjoy free shipping on Litheli snow removal tools. Excluding holidays, orders are scheduled for shipment within 1-3 days. Litheli products are shipped via FedEx and UPS. They should arrive within 7-15 days, and you will receive tracking information after your order has been processed.
Litheli offers non-transferrable warranties on its products. You will receive three years of standard warranty on your 20V and 40V tools, with an additional two years of extended warranty upon product registration. Litheli 20V and 40V batteries and chargers receive one year of standard warranty with an additional two years of extended warranty upon product registration. Litheli offers limited refund service during the 30 days after the original purchase.
20" cordless snow blowers come in a range of styles, prices, and features. You can expect a price range roughly from $180-$1,000, with Litheli offering high end-quality at the lower end of the price spectrum.
Litheli cordless snow blowers use a brushless motor, which utilizes the latest developments in electric motor technology. The brushless motor delivers 40% higher energy conversion than traditional brushed models and requires almost no maintenance. Translucent covers protect your batteries from the cold, wet weather while offering the voltage and capacity to remove even overnight snow.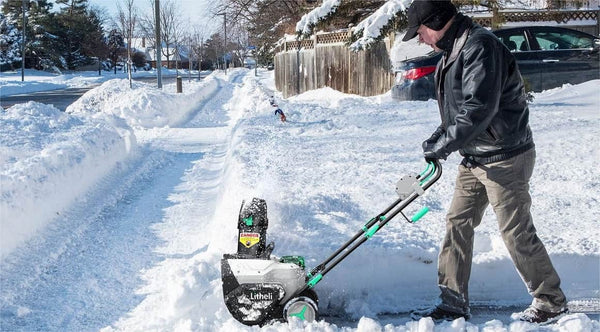 Frequently Asked Questions
Q: How long do Litheli Li-ion Batteries take to charge?
A: Litheli's 20V 4.0Ah Li-ion batteries charge to total capacity in 120 minutes. The company suggests charging and discharging the battery pack once every six months to maintain exceptional functionality levels if you aren't using the product regularly.
Q: How long do Litheli cordless snow blowers and snow shovels run continuously?
A: From a full charge, Litheli's 20V batteries deliver up to 20 minutes of continuous runtime for the cordless snow shovel, depending on the snow's depth, density, and operation technique. The batteries provide up to 25 minutes of continuous runtime on the cordless snow blowers. If you require more time per session, consider purchasing an extra battery and keeping one charged.
Q: Are Litheli batteries proprietary? Will other batteries work with this product?
A: Litheli's Li-ion batteries are proprietary, and other Li-ion batteries are incompatible. However, Litheli's 20V batteries work with all Litheli 20V tools.
Customer Testimonials
"This battery-powered snow blower is awesome. It's lightweight, easy to handle, and looks great. I also did my driveway and most of my neighbors' driveways before the battery died; all done. I am very happy with it and enjoy using it," reviewer Ccaatt said of the 20V Litheli cordless snow blower.
"I can't lift the shovel in heavy snow," Jennifer said in her Litheli cordless snow shovel review. "Litheli's snow shovel can fly the snow, so I don't have to lift it. I love it!"
"The first level got the top snow. The second pass gets ground ice. Neighbors across the street paid people to use gas blowers to remove snow, but they still had a patch of ice on their driveway. Mine works great, and I have no issues with extension cords, neighbors want to borrow my snow blower, and I'm happy," user P36jet said in a review of the 40V cordless snow blower.
"I was able to do a roof on a three-bedroom house and a 14-garage-sized garage area. I have no problems with the product. It works better than the 7.5 amp toro snow shovel I bought at the same time," user Jennie said in her Litheli cordless snow shovel review. "It is easier to lift and handle than a snow blower. I am so grateful for this product and plan to buy another one."
Conclusion
Make this winter better by using Litheli cordless snow removal tools to take the backbreaking work out of clearing your walkway. Whether you're clearing your driveway in the predawn hours or snow blowing the sidewalk after a blizzard, Litheli has the tools to finish hours of work in minutes. Visit Litheli's website today to learn more about our snow removal tools and secure your cordless snow blower or cordless snow shovel today.