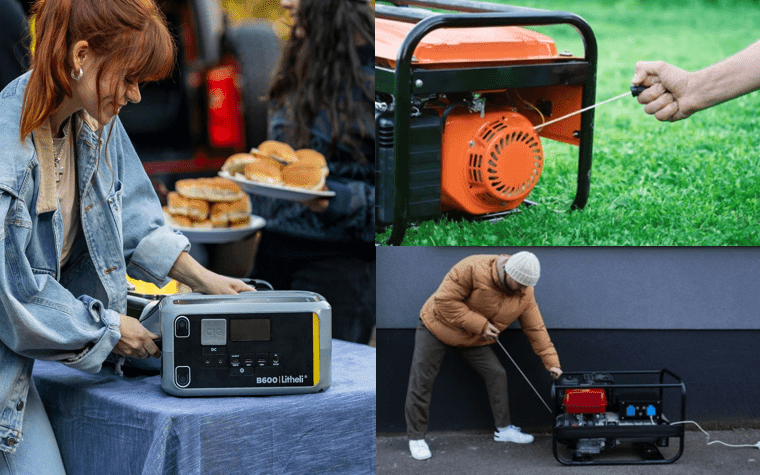 Buying Guide
Portable Power Stations vs. Gas Generators: Which Is Best for Your Next Adventure?
Compare portable power stations and gas generators with a comprehensive buyer's guide to Litheli's options for your next battery-powered experience.
Whether you're setting off for a weekend camping trip, hiking the Appalachian Trail, or entertaining kids through a blackout on a stormy night, mobile power offers convenience that's not dependent on the electrical grid. Portable power stations and gas generators both have benefits and drawbacks, so how do you know which one is the right choice for your next adventure?
Portable power stations run silently, on solar power, with no fumes, and can charge up to nine devices simultaneously while the total weight comes in at less than 20 pounds with the solar panels—making it lightweight enough to carry anywhere. By comparison, gas generators tend to be heavy (around 250 pounds), bulky, loud, and release toxic fumes while depending on fossil fuels. While they can often provide greater amounts of power, gas generators aren't as suited for trips where you must carry all your gear.
When preparing to take off on your next adventure, which independent power source suits your needs best? Some of the world's most impressive sights are nowhere near an electrical grid, making mobile power necessary. Read on to learn more about the pros and cons of portable power stations vs. gas generators.
Comparing Electric and Gas Generators
Portable gas generators and portable power stations may sound similar, but while they offer comparable outcomes, they differ in performance, environmental impact, features, convenience, and longevity. While you can get portable power from gas or electric sources, they aren't equally suitable for all situations.
To decide which type fits your needs the best, consider what you'll use it for and the circumstances in which you'll need portable power most often. Are you traveling in an RV or other vehicle and want to maintain electricity off the grid? You may be looking for an emergency power source in case of a blackout or extreme weather. One type may be more fitting depending on your situation and electrical requirements.
What Is a Gas Generator?
A gas generator is a mobile power source that requires fossil fuels such as gasoline or propane to produce electricity. Standard gas generators utilize inverters to convert the fuel's energy into electrical energy. They are generally capable of producing between 1,000 and 20,000 watts depending on the size and quality of the equipment.
What Is A Portable Power Station?
Portable power stations don't generate electricity but can store substantial amounts, which can then be used to power numerous devices. Litheli portable power stations are designed for use with durable, waterproof 100-watt solar panels, which can convert up to 23% of sunlight into electricity. Litheli's mobile power stations are rated for between 300 and 600 watts, with a peak power of 600 to 1200 watts.
Primary Differences Between Electric and Gas Generators
Power Generation and Storage
Power generation is one category where gasoline-powered generators have a clear advantage. Generators can produce substantial amounts of power if they have the required fuel, while portable power stations don't generate power at all. However, most generators don't store and redistribute energy, which gives portable power stations an advantage. Additionally, generators require fossil fuels, while power stations only need solar panels and some sunlight.
Power Output
Our portable power stations offer multiple charging ports and the ability to power up to nine devices simultaneously. Gas generators can typically put out significant power, but there is a risk they may overload electrical circuits and blow a fuse. While generators currently take the lead in capacity, advancements in battery technology continue to make storing larger amounts of battery power possible.
Portability
Even the smallest gas generator is likely to be bulky, heavy, and difficult to carry for any distance, while the larger ones can weigh hundreds of pounds and are only "portable" by virtue of the wheels. In comparison, Litheli's B300 Portable Power Station weighs just seven pounds. Even with the 12-pound solar panel setup, it's light enough to be carried anywhere and provides a renewable power source without the need for fossil fuels.
Operational Runtime
While gas generators can run until they exhaust their fuel sources, that can quickly become inconvenient and expensive. By contrast, Litheli's portable power stations run for the length of the battery life—and they can be charged while you use them.  
Maintenance Needs
Engines using combustible fuel for power are complicated and tend to malfunction in various ways. Portable power stations take the lead here because they require little maintenance or repair and have built-in systems for safety and stability.
Sound
Noise is another category where the electrical option undeniably wins. Gas generators are loud and must be outside to be used safely. Portable power stations run silently and can be used inside without any safety concerns.  
Fume Emission and Fire Hazard
Gas generators emit toxic fumes during use and present a fire hazard even when used outside. Litheli's power stations don't emit any fumes at all and include built-in fire protection that shuts the device down before it can heat up enough to cause a flame, making them safe for indoor use.
Exploring Litheli's Portable Power Generation Options
Litheli offers a versatile selection of products to facilitate portable power generation, storage, and use.
Litheli B300 Portable Power Station
If you're powering small devices such as cell phones or laptops, the Litheli B300 portable power station will likely meet your needs.
Features
300Wh capacity + 32Wh (U-Batteries)
Rated for 300W with a peak power of 600W
Ports: 300W AC port, 100W USB-C port, two 12W USB-A ports, 120W max EV charging port, 15W wireless charging area
100W Type-C and 100W DC7909 inputs
Accessories: AC adapter, EV charging cable, solar charging cable (MC4 to DC7909), and 65W Type-C charging cable
Litheli B600 Portable Power Station
Those looking to get off the grid or experience the van life for a few months may want the greater capacity of the Litheli B600 portable power station model.
Features
562Wh capacity + 32Wh (U-Batteries)
Rated for 600W with a peak power of 1200W
Ports: two 600W AC ports, 100W USB-C port, two 12W USB-A ports, 136W max EV charging port, 15W wireless charging area, and two 136W max DC5521 outlets
100W Type-C and 100W DC7909 inputs
Accessories: AC adapter, EV charging cable, solar charging cable (MC4 to DC7909), and 65W Type-C charging cable
Litheli 100W Solar Panel
Don't worry about fossil fuels when you're powered by the sun with the Litheli 100W solar panel. Anywhere you can feel the sunlight, you can have power with these versatile, durable, high-conversion efficiency solar panels.
Features 
Generates more electricity up to 1.5 times faster than comparable models
Coverts up to 23% of sunlight into usable electricity
Long-lasting ETFE-laminated coating
Ultra-compact, lightweight (12 pounds) design that's easy to carry and set up
The foldable design fits into a convenient carry bag
Compatible for use with most portable power stations
Durable construction with dust and IP65 water resistance
Adjustable kickstandsallow users to set panels at the right angle to capture sunlight
Litheli's U4 Li-ion batteries provide a convenient mobile power bank within the portable power station. The removable plug-and-play batteries offer power you can fit in your pocket with a Type-C output port to charge your mobile phone anytime, anywhere.
Features
4,000mAh lithium-ion battery
U-shaped power LED power indicator
At only 119 grams, it is lightweight and portable.
Durable, high-strength housing
Built-in battery management system
Compatible with all Litheli U4 Series products
Protected from overcharging, overheating, and short circuits.
Plug-and-play convenience at its finest
Gas or Electric? Weighing the Pros and Cons
There's no simple answer for whether gas or electric is the better choice. It depends on the situation, your power and portability requirements, and resource availability. If you're stuck on a deserted island or carrying all your gear, you certainly want the solar-powered option. However, if you're working on a construction project, keeping the lights on through a blackout, or need a lot of power away from the grid, a gas generator is likely the best choice.
How Litheli Is Facilitating a Battery-Powered Life
Litheli continually improves portable power options while building on the general understanding of what devices can work on battery power. From snow blowers to power tools, Litheli offers versatile equipment lines that run on the same battery, such as the 20V, 40V, and U4, U20 Series products.
High Quality, Backed by a Warranty
Litheli is confident in the quality of its products and offers limited warranties standard with all products. Extended warranties are available for products registered within 30 days of the original purchase. High quality and customer satisfaction are fundamental principles at Litheli, and we show our commitment with secure payment channels, free shipping, and 24/7 customer service.
Conclusion 
When you're looking for mobile electricity solutions to light up your next battery-powered adventure, consider the benefits and convenience you could receive with a Litheli B300 or B600 portable power station and 100W solar panels. For less carry weight than the average toddler, you can transport a renewable electricity source anywhere and experience truly portable power with Litheli.