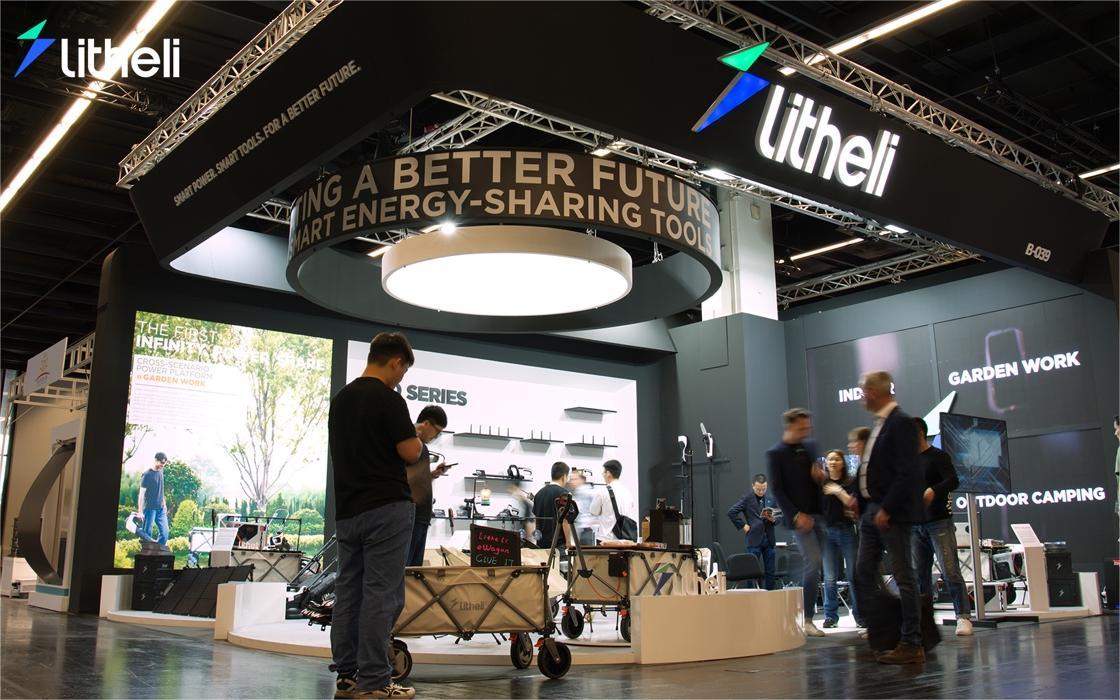 Litheli's Innovative IPS Model, Power Solutions and Electric-Powered Vehicle Shine at Intersolar and SPOGA+GAFA Exhibitions
Litheli's presence at Intersolar and SPOGA+GAFA marks a thrilling milestone in their quest for pioneering power solutions and sustainability in Europe.
Cologne, 20 June - Litheli, a young pioneer of innovative power and tool solutions, proudly announces its successful participation in two influential industry exhibitions in Germany, Intersolar and SPOGA+GAFA. As a brand driven by innovation, Litheli captivated audiences with its revolutionary INFINITY POWER SHARE (IPS) model and cutting-edge products, redefining how energy is generated, stored, interchanged, and used across various life scenarios.
"We are thrilled to showcase our groundbreaking product range at Intersolar and SPOGA+GAFA," said Jonas Orbke, Managing Director of Litheli Europe. " Litheli is committed to empowering individuals with an integrated solution for power generation, storage, interchangeability, and usage. Our ecosystem based on modular power supply system, tools, and home appliances represents a new era of performance, convenience, and sustainability."
Intersolar Europe is the world's leading exhibition for the solar industry, which takes place as part of The smarter E Europe, the continent's largest platform for the energy industry. SPOGA+GAFA, on the other hand, is known as the biggest garden trade fair in the world, bringing together garden enthusiasts and top players in the global green industry, showcasing fresh ideas, innovations, and trends from all over the globe, covering various aspects of the garden sector. Litheli's presence at these prestigious exhibitions highlights the brand's commitment to innovation and its position at the forefront of the new energy and tools industries.
At the heart of Litheli's participation in the Intersolar and SPOGA+GAFA exhibitions lies its most shining innovation, the unique INFINITY POWER SHARE (IPS) model. This model revolutionizes how energy is utilized, offering flexible and independent power solutions for diverse life scenarios, serves as the foundation for Litheli's range of battery-powered tools, including the U4, U20, and U56 platforms. Designed for a new generation seeking compatibility, simplicity, versatility, and high value, these tools exemplify Litheli's commitment to innovation.
More highlights include Litheli's two highly anticipated new products, the Eclair1000 portable power station and the eWagon W1 Pro electric-powered vehicle. Building upon the innovative IPS model, with vast 921Wh capacity and the modular use of two detachable 74Wh batteries, power of Eclair1000 could be shared while enjoying outdoor activities, even during power outages. The Eclair1000's astoundingly rapid 55-minute charge time, compatibility with solar charging, and intelligent app control, leads to higher efficiency and smarter power-use experience. The eWagon W1 Pro, the world's first battery-powered utility wagon, is redefining the camping vehicle industry. Featuring up to 200L capacity and a remarkable load-bearing capability, the eWagon W1 Pro offers ample storage and impressive carrying capacity for various scenarios such as camping, outdoor adventures, or transporting heavy equipment. The Eclair1000 will soon be available for purchase in countries such as the United States, China, Japan, the United Kingdom, and Germany, and the eWagon W1 Pro will soon be made available and released through crowdfunding projects in North America and Europe.
Litheli's presence at Intersolar and SPOGA+GAFA marks a thrilling milestone in their quest for pioneering power solutions and sustainability in Europe. With the spotlight on their exceptional products such as the Eclair1000 and the innovative eWagon W1 Pro, Litheli mesmerizes audiences and firmly established itself as a frontrunner in the dynamic realm of power and tools.
For media inquiries and further information, please contact:
Jingle Liang
jingleliang@litheli.com
About Litheli:
Founded in 2017, after 3 years of product planning, R&D, and patent innovation, Litheli was officially put into operation in 2020, and has now expanded its teams in 4 cities across China, plus 3 locations overseas. With a mission to improve the efficiency of new energy use and promote the revolution of new energy scenarios, Litheli has garnered acclaim for its innovative technology and epoch-making product design. Through the unique INFINITY POWER SHARE (IPS) model and a range of cross-scenario battery-powered tools, Litheli continues to revolutionize the power industry and caters to the evolving needs of consumers worldwide.