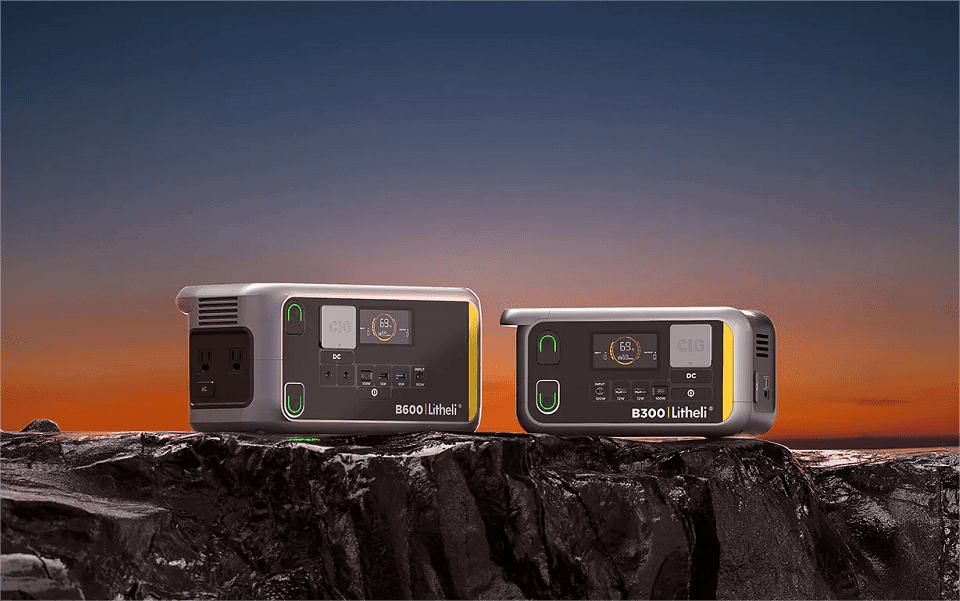 Power Your Lifestyle
12 Vital Facts You Need to Know When Buying Portable Power Stations
This article will teach you twelve vital facts about portable power stations, the many ways you can use them, and why you need one for your next trip.
Set your next camping trip up for success by taking a portable power station with you. You can power multiple devices at once, taking modern conveniences into the wilderness with you — no matter how far from civilization you go. From your backyard to the most isolated vistas in the world, Litheli has power solutions to fit your needs.
A portable power station is a device with a rechargeable battery meant to power electronics. Though they have a similar function to power banks, they offer a much larger capacity, power output, and a variety of charging ports capable of powering anything from a cell phone to a home appliance.
Portable power stations have many applications, from taking reliable power with you on a camping trip to providing power during an emergency outage — and anything else you can imagine. They come in a variety of sizes and portability, from small enough to carry with your camping gear to large enough to power your home in a blackout.
Read on to learn twelve vital facts about portable power stations and how you can live a battery-powered life with Litheli.
What is a portable power station?
Portable power stations make it possible to bring electric power anywhere, no matter how far away from the infrastructure of civilization your destination may take you. Much more than simply big batteries, Litheli mobile power stations offer you a full spectrum of technological components and ports capable of meeting all your power needs.
When you factor in the ability to use Litheli solar panels to charge your power station, you'll soon see all the possibilities with sustainable and genuinely portable power at your fingertips. Plan longer trips and go further distances away from everything as you enjoy a truly battery-powered life with Litheli.
Litheli offers portable power stations in two sizes: the B300, with a 300W capacity and the ability to charge up to six devices simultaneously, and the B600 featuring a 600W capacity and ports to charge up to nine devices at once. Charging port options include AC outlets, USB-A, Type-C, electric vehicle (EV) charging ports, and wireless charging areas.
High-capacity Portable Power
One of the primary benefits our portable power stations provide is high-capacity power storage with all the convenience of a battery. Watt-hours (WH) is the measurement of battery capacity and refers to how much electricity it provides each hour.
A lower-capacity portable power station will meet your needs when you're only charging devices with low power consumption, such as phones or laptops. Our B300 (300Wh) model is ideal for hiking, camping, or keeping the music going around the bonfire — at the beach or in your backyard. For longer trips, more significant power draw, or greater distance between charging resources, consider our B600 (562Wh) model.
Litheli's B300 has an edge on the market with one AC outlet, two USB-A ports, one Type-C port, one EV charging port, and one wireless charging area. Similar products don't offer a Type-C connection or take much longer to charge.
The B600 from Litheli stands out in a crowded market of mid-size portable power stations with a six-hour charge time, two AC outlets, two USB-A ports, one Type-C port, one EV charging port, one wireless charging area, two DC5521 ports, and solar panel charging compatibility. Compared to other options on the market, you'll get larger capacity and faster charging with Litheli.
Each model includes two removable standardized modular U-Batteries, which are compatible with all electrical appliances from Litheli's U Series. Enjoy plug-and-play convenience with the U-Batteries, which also function as individual portable power banks.
Picture loading up your family into the RV and driving out to see some of the nation's natural wonders. Along the way, you stop at a campground and get set up for the evening. Hand your teenagers the removable U-Batteries to charge their tablets, set your phone down on the wireless charging area, plug in the lights, and turn on the radio — all with your Litheli portable power station.
Eliminate your concerns and anxiety about potential electricity shortages by securing your own clean, sustainable energy with a Litheli portable power station and solar panels. We offer the reliable products you need to take the power you want with you, no matter where you're going. Our devices are lightweight and compact enough to carry anywhere. With a Litheli mobile power station, energy solutions are at your fingertips. For hiking, RV camping, road trips, and home emergencies let us help you set aside concerns about power.
Wireless Charging
Wireless charging, also called inductive charging, allows you to charge your electronic devices conveniently cable-free. Our portable power stations come equipped with a 15W wireless charging area. If it supports wireless charging, set your phone or tablet down, forget it for a while, and come back to a fully charged device. There are no worries about lost or tangled charging cords with a place to set your devices down and charge them wirelessly.
Unparalleled Portability
Both Litheli portable power stations are lightweight and compact enough that you can carry them anywhere. The B300 and B600 models offer two removable U-batteries, allowing a compact power source you can fit in your pocket and the convenience of plug-and-play power. The solar power compatibility of our portable power stations gives you the option to recharge with solar panels. Even the most isolated hunting shack can now have enough power to run your heater and lights and charge your devices simultaneously.
With a little bit of physical effort, your power potential is only limited by your imagination and how far you're willing to carry the mobile power station. Do you want to set up an elegant dinner party in the desert? Or perhaps hike the Appalachian trail to experience life in the wilderness for a few months? Litheli will support every step of your battery-powered life as you disconnect from the cables and set off on an adventure.
Power for Multiple Situations
The applications for using a Litheli portable power station are only limited by where you're willing to carry it. Relax under a string of fairy lights on a remote mountaintop after a grueling hike or stay toasty warm while ice fishing and listening to the radio. You can have power anywhere if you can carry our lightweight, compact power station.
Camping is made infinitely easier with a reliable source of power. Whether you're on a fun camping trip with the family or pushing your boundaries on a rugged expedition, keep all your gear charged with a Litheli portable power station.
Our portable power stations are ideal for powering electric tools. From leaf blowers to power tools, we'll help you keep it running with convenient power you can carry with you.
Do you need lights while building your dream home? Or perhaps you want to make sure the food in your freezer stays good through a blackout. We have exactly what you need.
Built-in Safety Protections
Our portable power stations feature a built-in battery management system designed to extend the battery's service life. Litheli ensures the safety and reliability of your device with protection preventing overheating protection and settings to set off a variety of alarms in the event of abnormalities. Our detailed owner's manual includes a wealth of information explaining each of the alarms and the most likely actions you can take to fix the problem.
We built a solid product with safety measures to protect your investment. If your mobile power station experiences troubles with any of the systems, alarms will alert you to the issue and prevent further damage from occurring via the protections. Litheli offers great value and high-quality products designed to offer the clean convenience of battery power with the longevity and output of a generator.
Pure Sine wave
We use a pure sine wave inverter to convert direct current to alternating current, delivering high-quality electrical power to a full spectrum of electronic devices. Pure sine wave inverters provide cleaner, more efficient power compared to modified sine wave inverters, along with a much smoother path to convert the DC input. You can expect less interference and noise, too. Combined with the battery management system, your power supply is safer, too, as it warns of any overheating long before it becomes a more significant issue. Let the technology work to your advantage with Litheli mobile power stations.
Charge Up to 9 Devices At Once
The LCD shows information about every part of your Litheli portable power station. Monitor safety information like an abnormality, overload, high, and low-temperature alarms. Measure your power input and output on the display screen, alongside battery percentage, remaining battery time, and indicators for the various charging ports, AC output, U-Batteries, and fan.
AC outlet
Type-C port
USB-A port
EV charging port
Wireless charging area
Removable U-Battery
With Litheli portable power stations, charge up to nine devices at once, depending on your model. Even the smaller option can charge up to six devices simultaneously. Both models also support pass-through charging, so you can charge the power station while charging your devices.
Be A Light in the Blackout
If you've ever been left sitting in the dark during an unexpected power outage or lost a refrigerator full of food after an extended blackout, you know the value of on-demand power where and when you need it. Be a light in the blackout and keep your family entertained and safe with power for lights and devices the next time the power goes out at your home. Litheli portable power stations are also quiet and safe for indoor use, unlike generators. So, the next time the lights go out, you won't have to worry with Litheli's portable power within your reach.
Solar Panel Charging
Evolve with the technology. All Litheli mobile power stations are compatible with solar panel charging. For optimized results, use Litheli solar panels. Anywhere you go, Litheli makes it easier to live a battery-powered life. You can fully charge your power station with solar panels, creating a clean, sustainable power supply for the life of the device.
Litheli solar panels are built with mono-crystalline silicon solar cells and can convert up to 23 percent of sunlight into solar energy. This high conversion efficiency generates electricity 1.5 times faster than similar products on the market. As long as you have sunshine, you'll have the electricity you need. Our solar panels come in an ETFE-laminated case to extend their lifespan, and they're waterproof, making them ideal for all weather conditions and outdoor activities. They're easy to carry at just 12 pounds, and the two adjustable kickstands let you find the best angle to capture the sunlight.
If your destination has access to open skies, you can light it up with Litheli. Carry one of our mobile power stations and solar panels with you and bring all the convenience of modern civilization to the far-flung corners of the world. With a portable power source, adventure is only a few steps away. Our mobile power generators would be ideal for mission trips and emergency response teams as well.
Available in Multiple Capacities
If you're only powering your cell phone or laptop, the B300 should meet and exceed all your needs, but if you're planning to live off the grid or take on the van life, you'll want the B600's greater capacity — and solar panels to charge it. Review the specs for both models and determine which one best suits your needs, then get your own portable power station so you'll always have electricity available wherever you are.
300Wh capacity + 32Wh (U-Batteries)
Rated for 300W with a peak power of 600W
Ports: 300W AC port, 100W USB-C port, two 12W USB-A ports, 120W max EV charging port, 15W wireless charging area
100W Type-C and 100W DC7909 inputs
Accessories: AC adapter, EV charging cable, solar charging cable (MC4 to DC7909), and 65W Type-C charging cable
562Wh capacity + 32Wh (U-Batteries)
Rated for 600W with a peak power of 1200W
Ports: two 600W AC ports, 100W USB-C port, two 12W USB-A ports, 136W max EV charging port, 15W wireless charging area, and two 136W max DC5521 outlets
100W Type-C and 100W DC7909 inputs
Accessories: AC adapter, EV charging cable, solar charging cable (MC4 to DC7909), and 65W Type-C charging cable
Different from A Generator or Power Bank
Unlike a generator, which often comes with loud, disturbing noises and unpleasant fumes, our power stations run quietly and are safe for indoor use. One of the main reasons people head into the wilderness for camping or hiking is to escape from the hectic chaos and constant manufactured sound that comes with town life. With Litheli, you can live a battery-powered life, in the place of your choosing, with all the convenience of reliable, sustainable power.
Compared to power banks, portable power stations offer a much larger power capacity, and Litheli's models give users a wide variety of charging port options. Most power banks only have USB charging ports, limiting the type of devices they can power. Litheli portable power stations come with two removable U-Batteries, which themselves function as power banks.
Long Lifespan
Our portable power stations' battery management system, pure sine wave inverter, and durable structure extend battery service life, giving your device a longer lifespan. On average, you can expect a high-quality portable power station's lifespan to last at least 500 charge cycles, which is the industry standard.
Conclusion
Whether you're heading out for the weekend on a camping trip or hitting the road for a few months, our portable power stations will ensure you have energy when you get there. Visit our website today to get your Litheli mobile power generator, and you'll be on track for a battery-powered life.