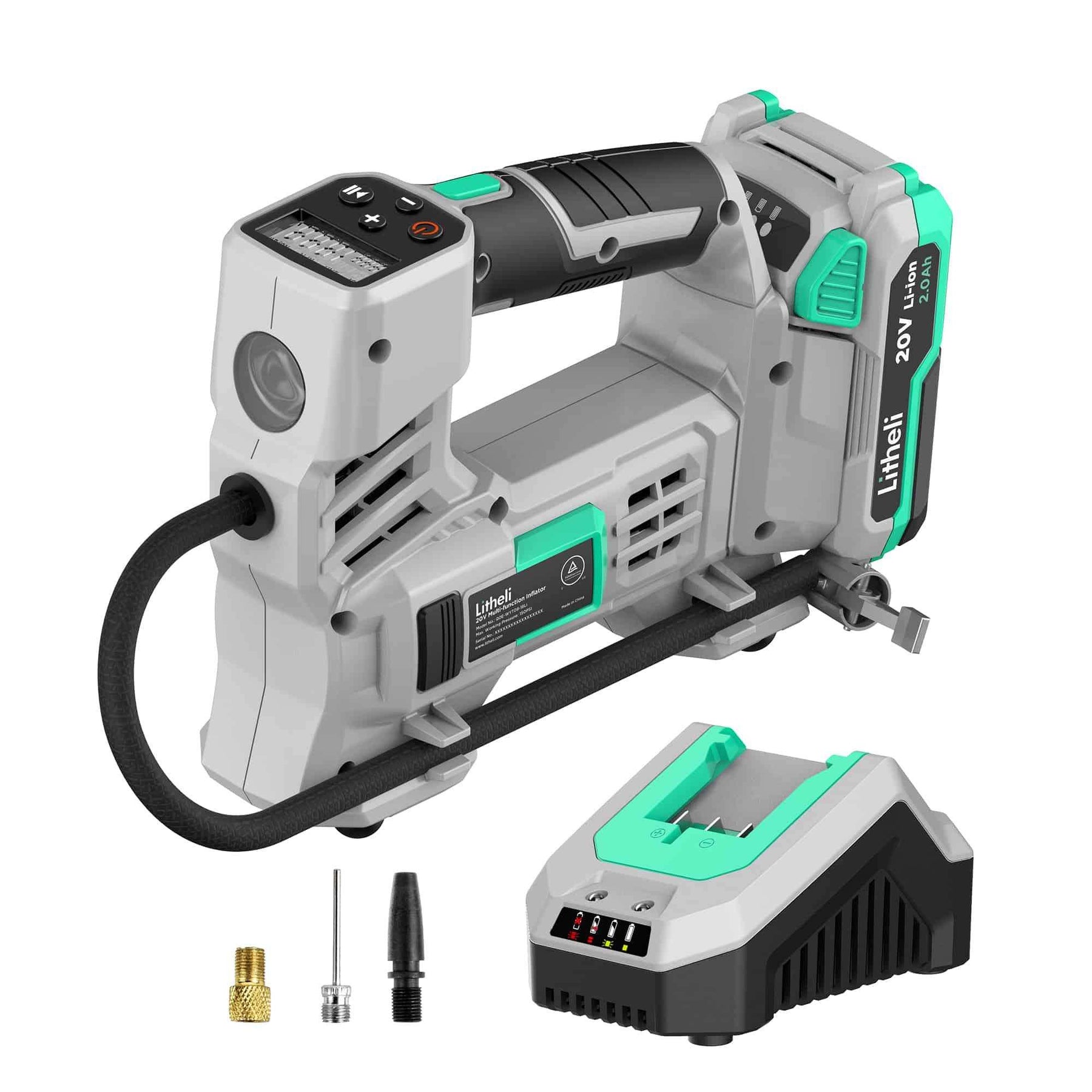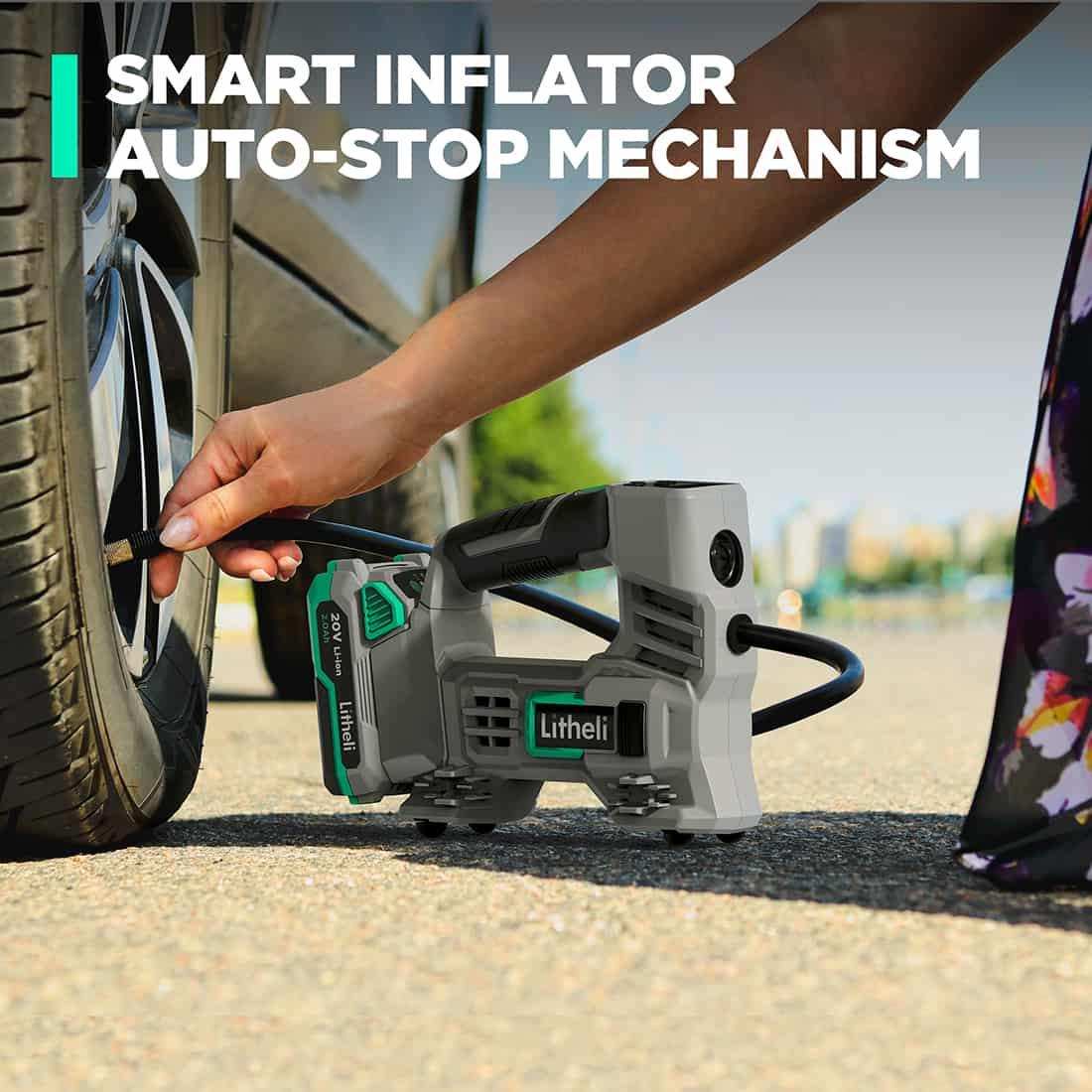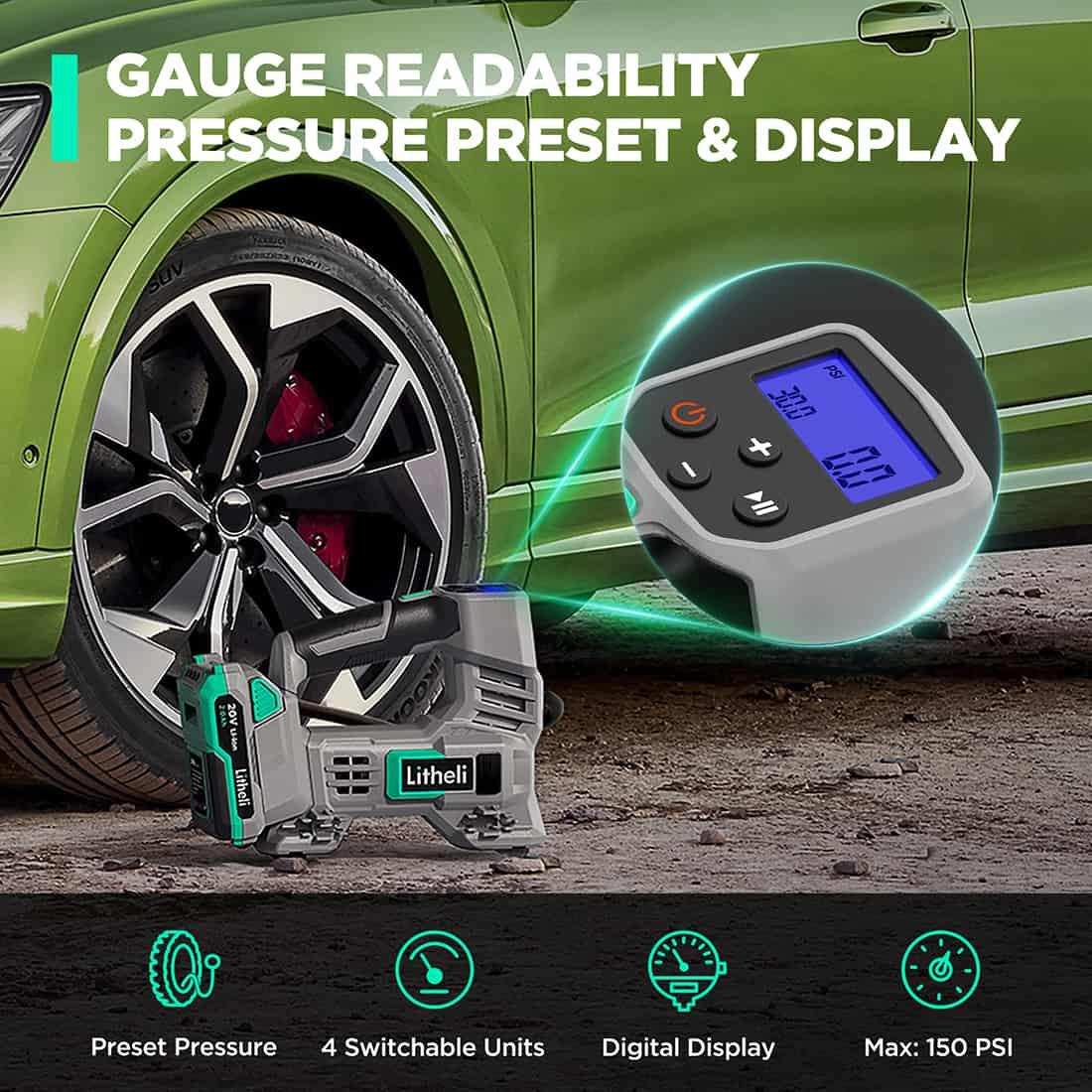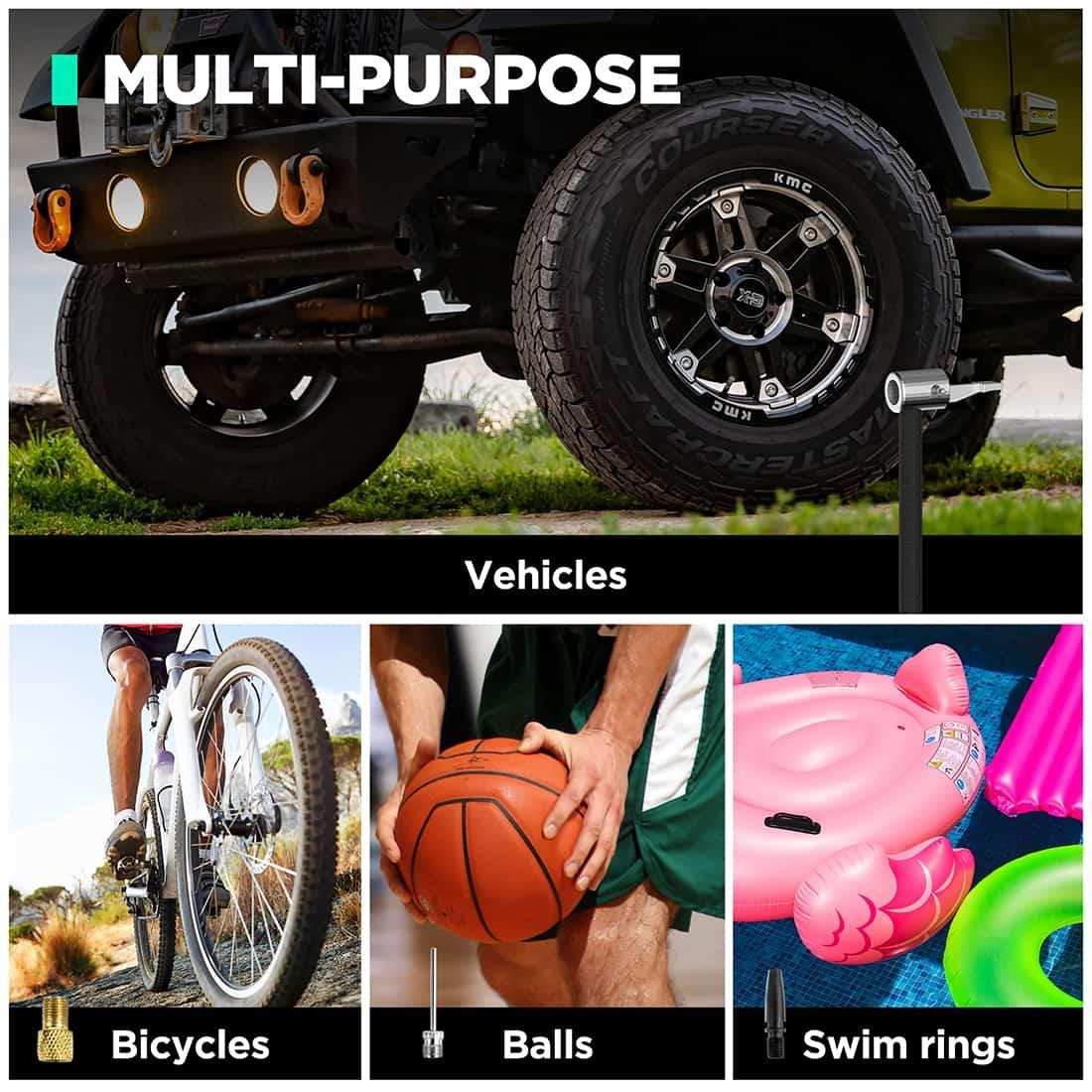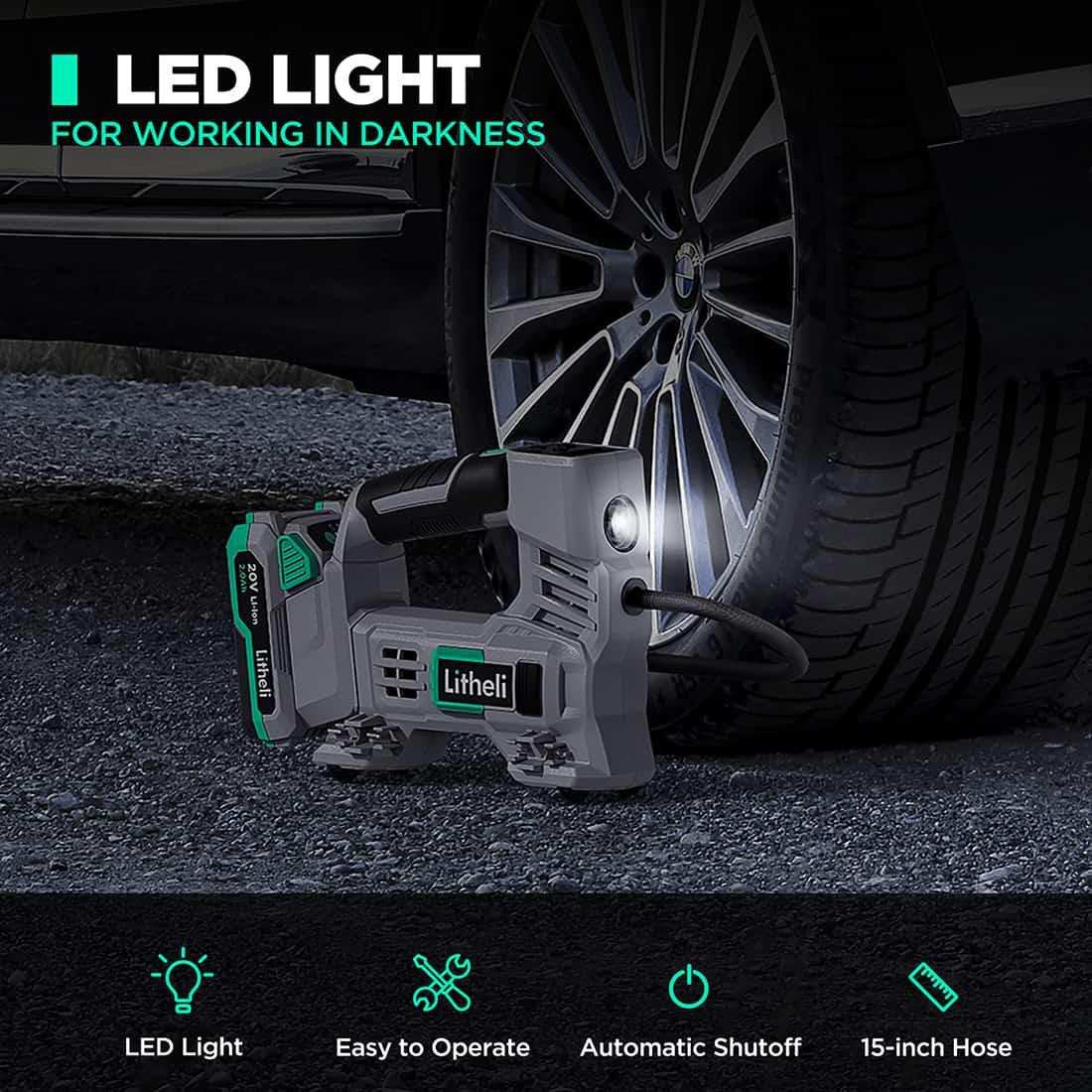 Litheli 20V Cordless Multi-function Inflator + 2.0Ah Battery & Charger
Litheli 20V Cordless Multi-function Inflator is your effort-saving helper for quickly and easily pumping up car tires, swim rings, inflatable toys, sport balls, etc. Get ready for your next road trip, grab it & hit the road.
2Lbs bare tool weight & ultra compactness for easy storage
High-efficiency motor delivers max. 150 PSI and 25 L/min air flow
Choose from 4 pressure units (PSI, BAR, KPA, kg/cm²)
LED light for roadside emergency and nighttime use
Auto-stop mechanism to prevent over-inflation
LCD digital display screen shows real-time data
This 20V battery also works with all Litheli 20V tools
SMART POWER
With a sophisticated built-in chip, Litheli Multi-Protection Li-ion battery knows how to safeguard your powering process, and its fast charger has red/green indicators to watch over charging.
CONVENIENCE
Read & set the target pressure value on the digital display. To prevent overfill, this battery-powered air pump automatically stops inflating when the preset pressure is reached.
HIGH EFFICIENCY
Upgraded with high-conductivity material, this pure-copper motor sees dramatic increase in its power output and energy efficiency, with extra smoothness that you can enjoy from every task.
VERSATILITY
Accessories include 1 tapered adapter, 1 Presta valve adapter, and 1 sport ball needle, quickly pumping up tires for cars, pool floaties and sport balls.
ERGONOMICS
LED light for working in darkness and sending SOS signal. Rubber handle offers non-slip grip.
EQUIPMENT
Dimensions
7.9″×2.9″×7.0″
BATTERY
Type
Rechargeable Lithium-ion
Here's A Video to Guide You
Everything you need to know about your tool & useful TIPs before use.
Hear From The Best
Reviews, feedbacks, recommendation, field experiences and more.
FAQS
Q1: Will this inflator work on a suv?
A:I use it to inflate tires on my minivan and it works flawlessly so I am positive it will do the job on just about any tire. Used to do it with an AC corded compressor but the Litheli is so much easier and more efficient to use.
Q2: Does the charger plug into wall plug?
A:Yes. It plugs into the wall and the battery plugs into the charger.