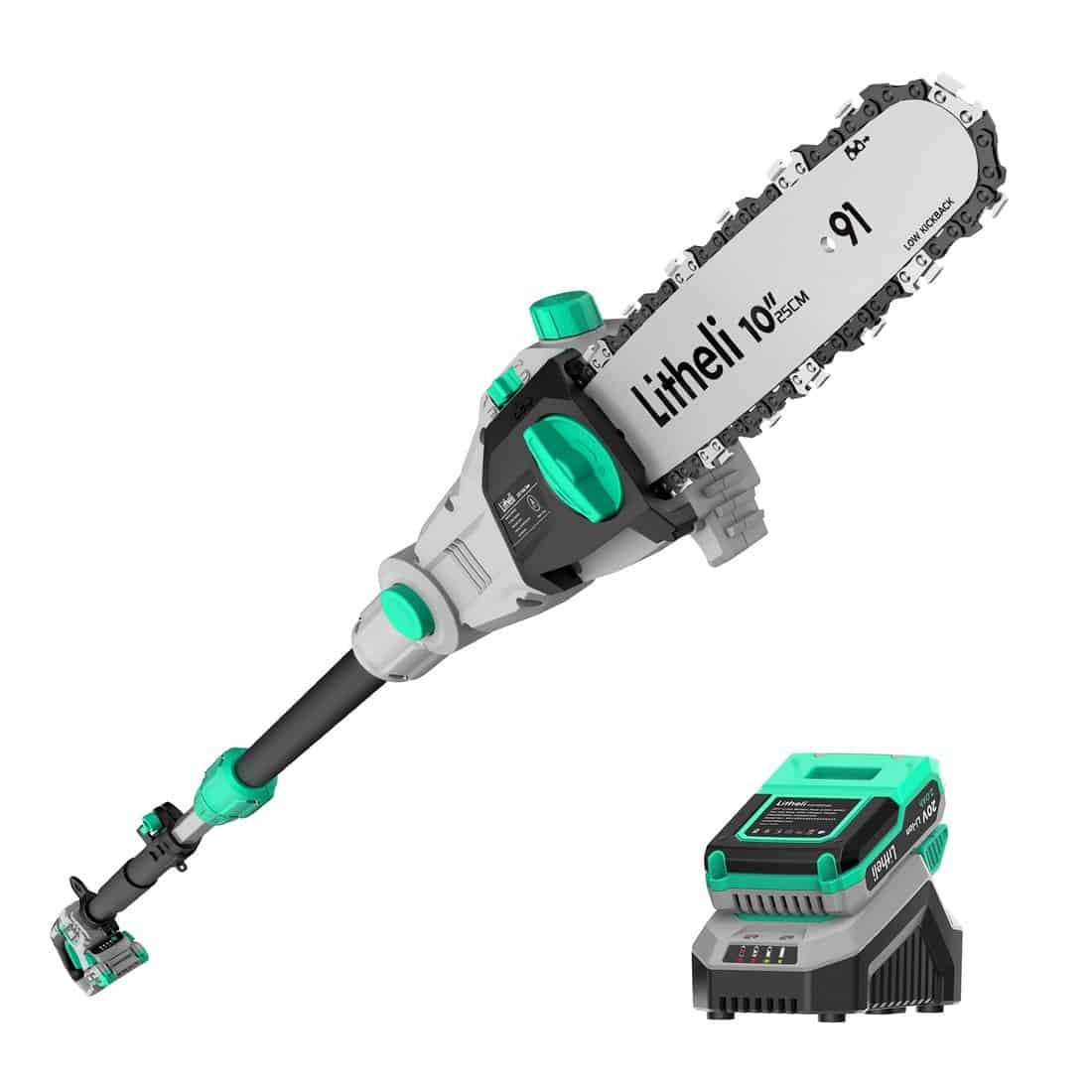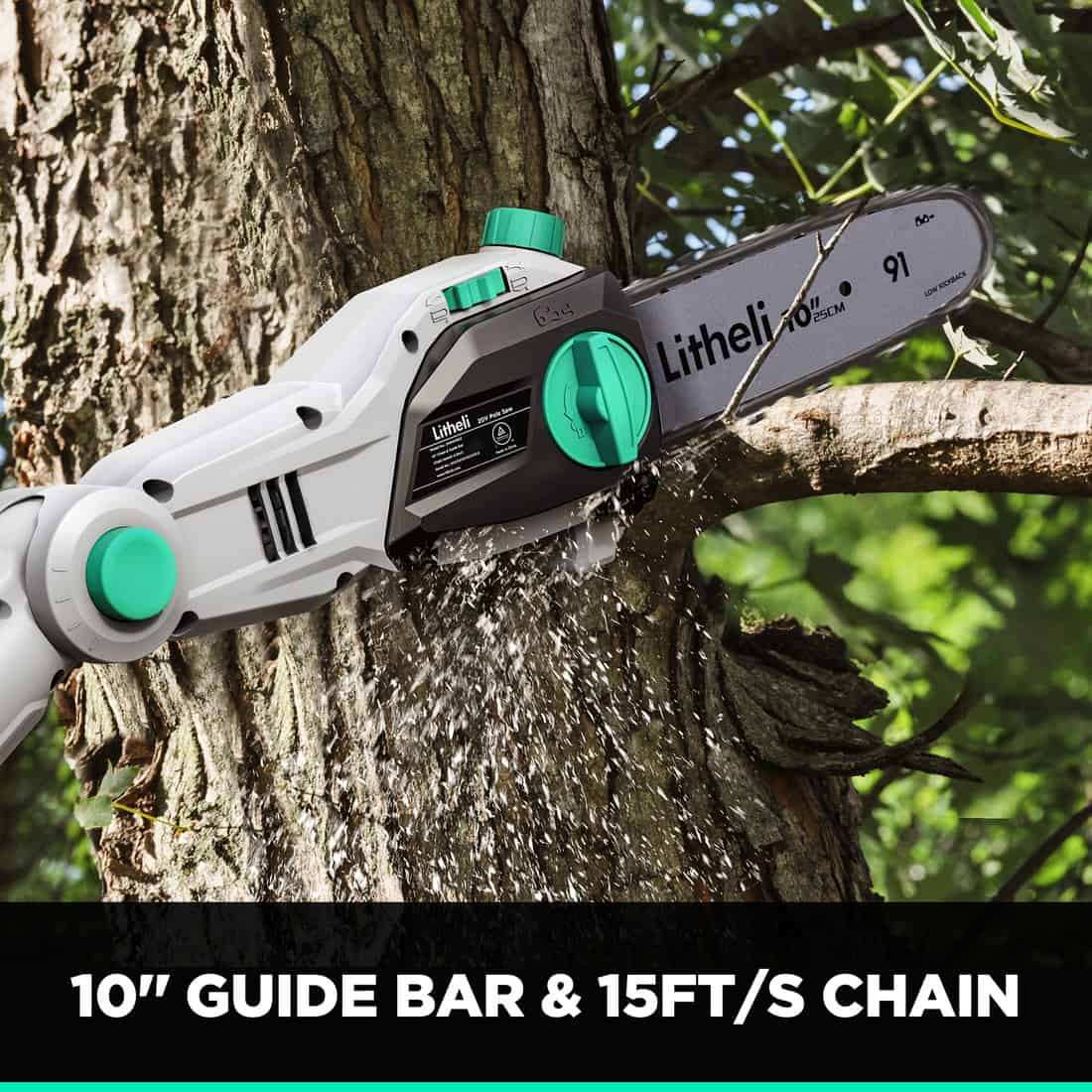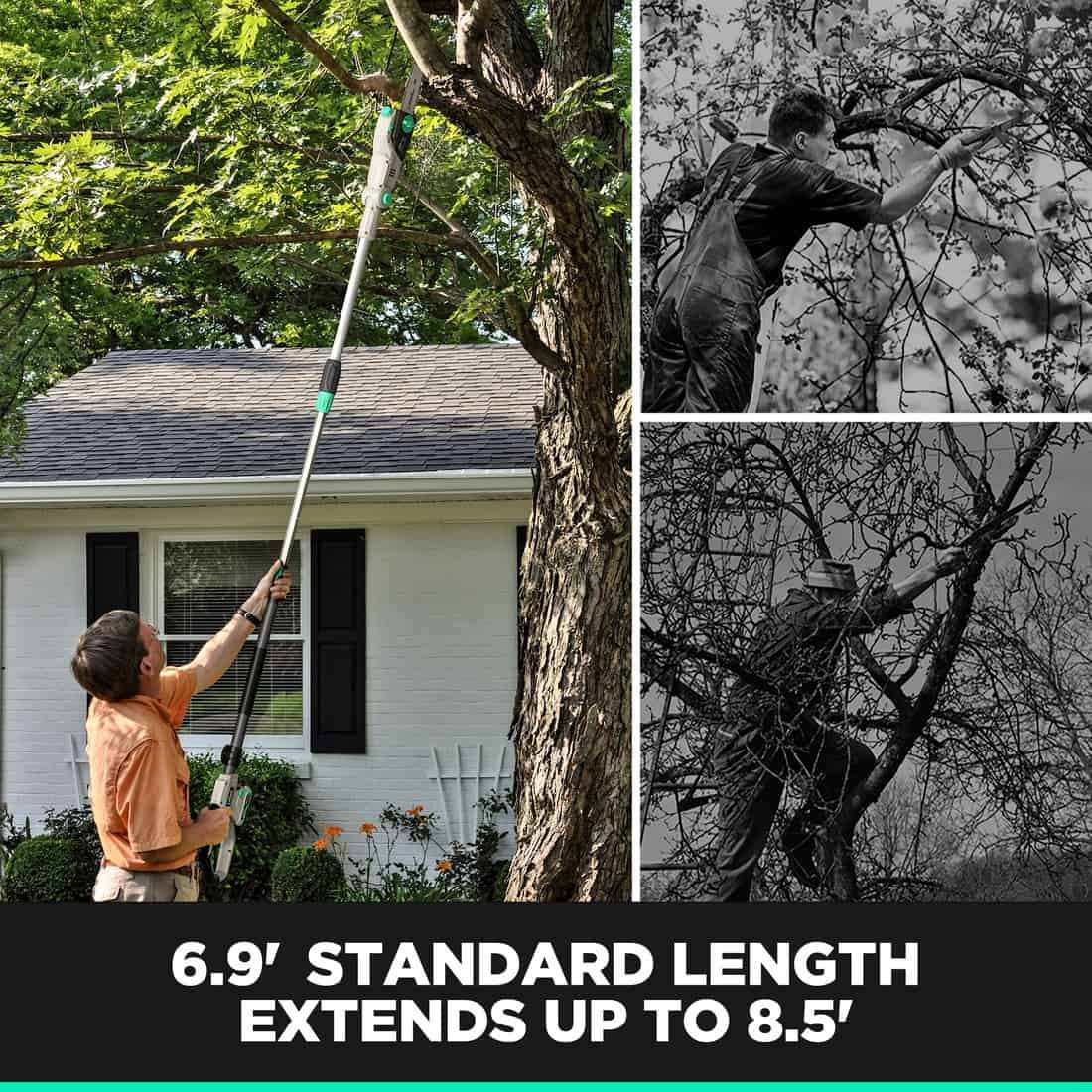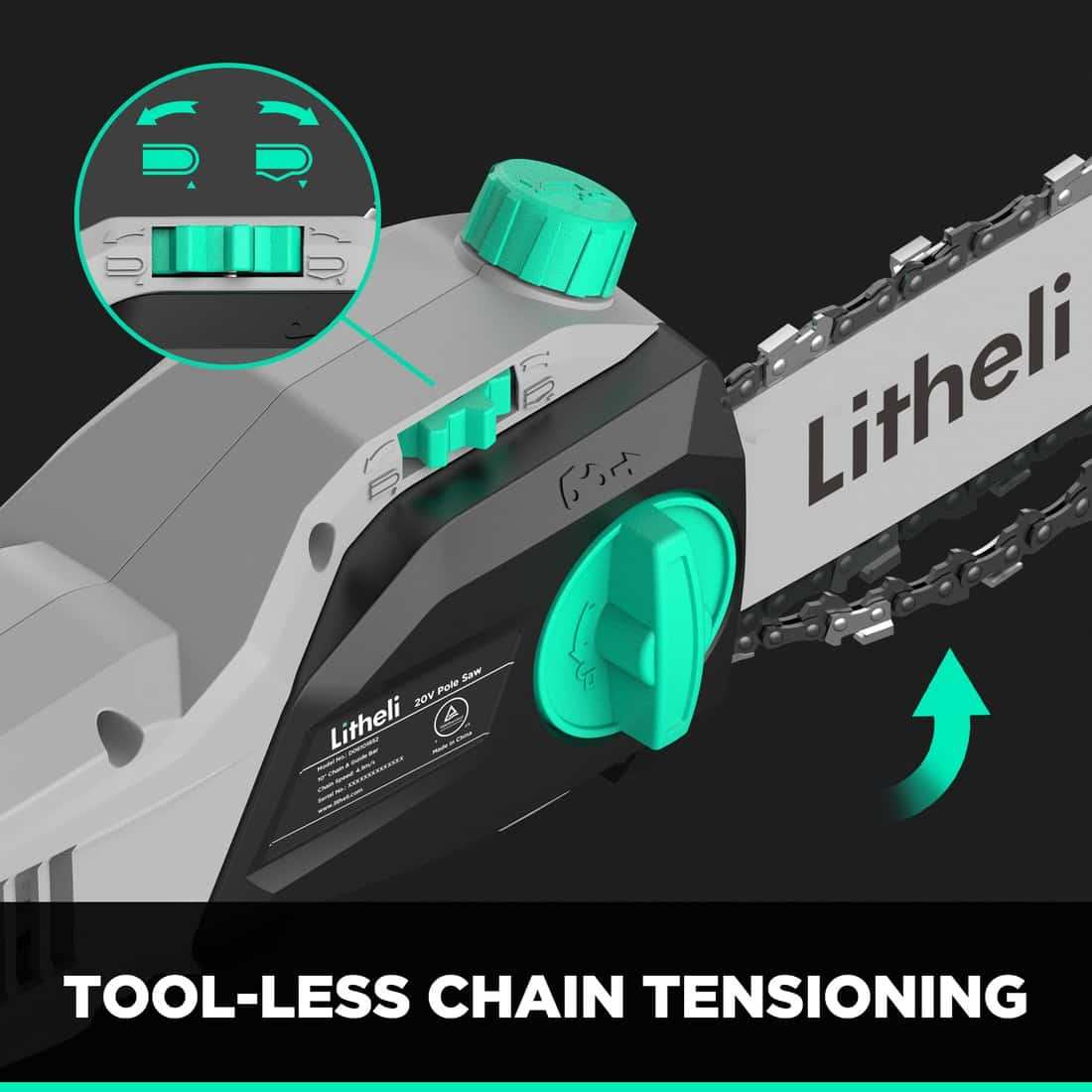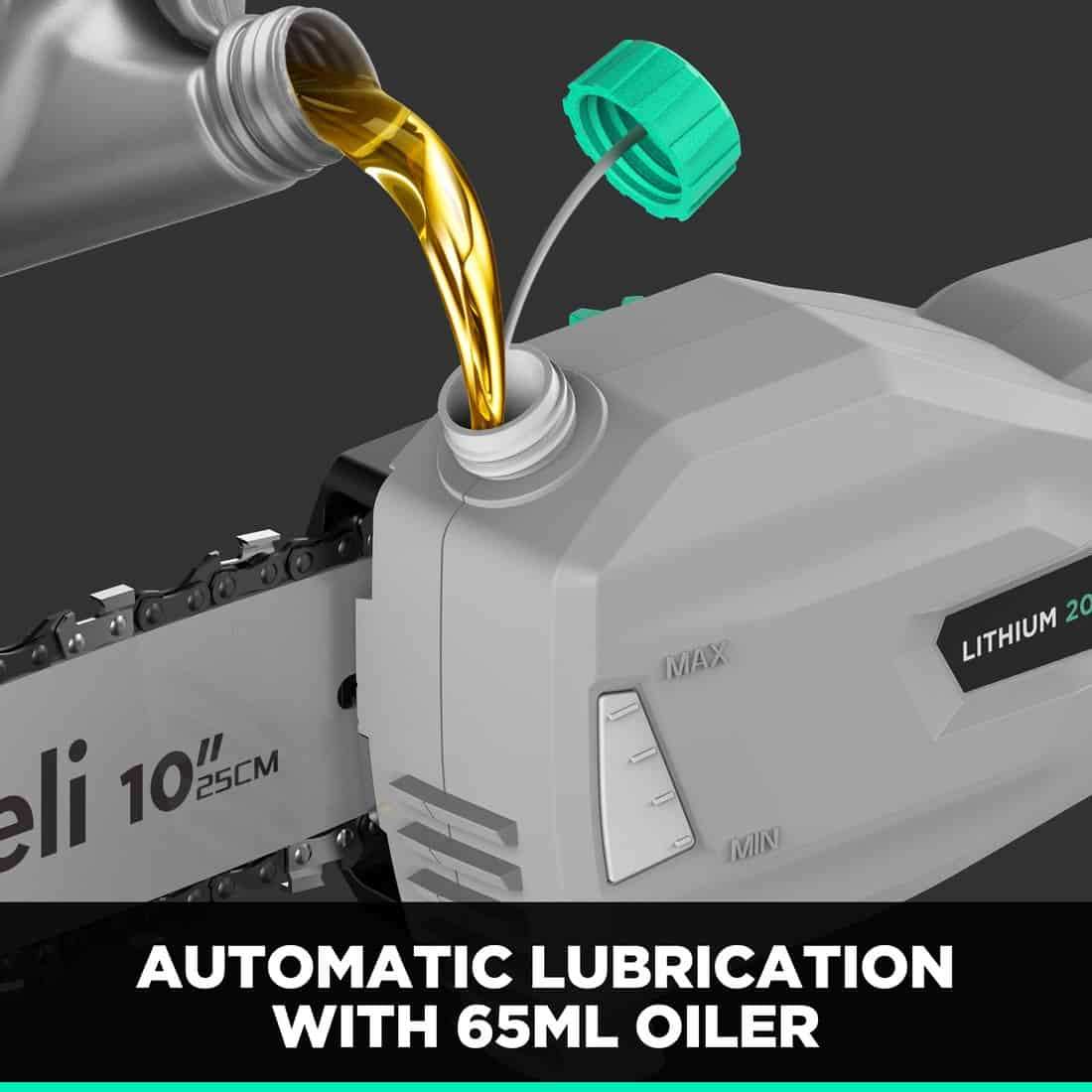 Litheli 20V 10" Cordless Pole Saw
Litheli 20V 10" Cordless Pole Saw provides a hassle-free way to keep your trees looking well-maintained. The battery-powered pole saw offers great user convenience with  providing higher and flexible reach while ensuring safety and comfort in cutting.
7.7Lbs lightweight & easy to maneuver
Tackles hard-to-reach branches and limbs
User-friendly tool-less chain tensioning and automatic lubrication
4-angle adjustable saw head easuly captures hidden branches
Telescopic pole enables the tool to reach any length from 6.9′ to 8.5′
Shoulder strap lessens user fatigue during work
This 20V battery also works with all Litheli 20V tools
EXTRA HEIGHT
Ever frowned at the branches threatening your house eave but cowered under the tree for the cut? You need a pole saw to help locate the overgrowth and cut it off before it falls by itself. This 6.9′ - 8.5′ telescopic model should be your choice.
ERGONOMICS
Extra comfort is offered to make your work easier. An accessory shoulder strap is included to reduce user fatigue. An anti-slip sleeve on the shaft enhances the grip.
DEFT SAW HEAD
The deftness of a 4-angle turn-able saw head helps reach hidden cut in thick branch entanglement. Precise, swift, effortless, it makes the user feel in control.
EASY ASSEMBLY
Simple assembly of upper and lower shafts by a built-in lever. Safe and secure shaft connection ensures the durability of the extendable high-reach tool.
TOOL-LESS ADJUSTMENT
Built-in knobs help fasten the cover, set the head angle, and tension the chain. No need to use extra tools. The convenience you can enjoy from our ergonomic design.
EQUIPMENT
Telescopic pole
6.9′ to 8.5′
Head angles
0°, 22.5°, 45°, -22.5°
BATTERY
Type
Rechargeable Lithium-ion
REPLACEMENT
ACCESSORIES
Litheli 10″ Replacement Pole Saw Chain
Shop Now >
Litheli 10″ Replacement Pole Saw Guide Bar
Shop Now >
Here's A Video to Guide You
Everything you need to know about your tool & useful TIPs before use.
FAQS
Q1: Can I detach the saw from the pole?
A:Yes, it's fully detachable.
Q2: I read that the saw is fully detachable from the pole. Can the saw be used without being attached to the pole?
A:We are battery powered, It can't be used without being attached to the pole.
Q3: How heavy is the whole thing?
A:Bare tool weight is about 7.7Lbs.